Copper Gutter Installation and Repair in Atlanta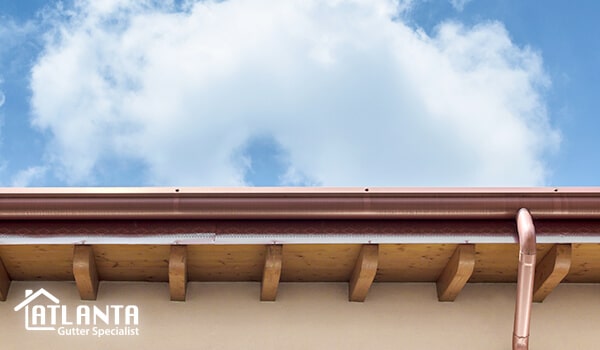 There are many benefits of choosing copper gutters for your home. In addition to the beauty that copper provides, it also is a very strong material that will never rust or rot. There is very little maintenance required when it comes to copper gutters, and they will last for decades. Copper gutters are an excellent choice because they not only add value to your home, but they also increase the curb appeal because of their beauty and elegance.
While copper gutters are more expensive than aluminum gutters, but they last longer and provide a better appearance to your home. Steel gutters are also very durable and will last many years; however, they can rust if not properly maintained.
Weather Resistant – Copper gutters can withstand high temperatures and harsh weather conditions without degrading or rusting.
Maintenance Free – There is very little maintenance required when it comes to copper gutters. Cleaning them occasionally and re-coating them every few years is all that is needed for copper gutters.
Color – Copper is available in a variety of colors, which means you can match the color of your home or go for something completely different.
Environmentally Friendly – Copper contains a low level of lead, making it an environmentally friendly choice for your home.
Elegance – Copper gutters are beautiful and elegant. They add a touch of class to any home.
Longevity – You can expect copper gutters to last for decades without having to be replaced.
Sustainability – The use of copper as an alternative to steel or plastic reduces the demand for other resources that take a considerable amount of energy and time to produce.
Natural Beauty – Copper adds beauty and elegance to any space with its natural color and finish.
When purchasing new gutters for your home make sure that you consider all of these factors before making a final decision on what type of gutter material you will choose for your home.
CLIENT TESTIMONIAL
I recently had Atlanta Gutter Specialists install copper gutters on my home, and I am extremely satisfied with the results. Mr. Mills and his team were professional and courteous throughout the entire process, and the work they did was top-notch. The copper gutters they installed look great and have held up well in heavy rain. I highly recommend Atlanta Gutter Specialists to anyone in the Atlanta area looking for quality gutter work.
When to Repair Your Copper Gutters
Copper is a very durable material and if your gutters are not very old, they can be repaired instead of replaced.
Copper gutters can last many years if they are properly maintained. Over time, gutters can get dented or develop small holes in them. These small holes or dents will allow water to leak down the side of your house during heavy rain storms. If this happens, the paint will start to chip and peel away from the house. By repairing these small holes and dents early on, you can prevent water damage to your home later on down the road.
The cost of repairs for small holes in your existing copper gutters will be much less than the cost of installing new copper gutters from scratch. The process of repairing an existing gutter is fairly simple and only takes a few hours to complete. Our professional gutter technicians with personal experience in copper gutter repairs will come out to your home to see what needs to be done by inspecting each piece of your gutter system. They will replace any damaged pieces that cannot be repaired and make sure that everything is back in place before leaving your property.
If you're wondering whether or not you should repair or replace your existing copper gutters, give us at Atlanta Gutter Specialists of Georgia a call today at 877-516-3008. We have been providing quality gutter repair services in the Atlanta area for many years and we would love the opportunity to work with you!
What is a Copper Gutter
Copper gutters come in many different sizes and can either be custom made to fit your home. The color of the copper is determined by the amount of heat that it is exposed to during manufacturing. The higher the temperature, the darker the color will be. Copper gutters are very durable and have a lifespan of about 50 years when used under normal conditions.
If you want a gutter that will not rust or corrode, then copper could be the right choice for you. Copper is one of the most durable materials that can be used on your home. It will not break or fade over time, making it an excellent choice if you want your investment to last for many years to come. Copper gutters can also increase the value of your home because they are beautiful and add charm as well as elegance to any home.
What to Consider Before Choosing Copper Gutters
There are several things to consider when choosing copper gutters for your home. The first thing to consider is how long you plan on living in the home. If you are planning on living in the home for a while, then it makes sense to invest in copper gutters because they will last much longer than other types of gutters. However, if you are planning on moving within a year or two, then it may not make sense to invest in copper gutters because they are a premium option.
Another item to consider when choosing copper gutters is the style of your home. Copper gutters are best used on homes that have a traditional or craftsman design. Copper gutters may not look as good on a modern or contemporary home because they typically do not match the style of those homes.
Finally, you should consider how much maintenance the gutters will require. Copper gutters are very durable but they do require periodic maintenance to keep them in good condition. You will need to clean them regularly and reseal them every few years to prevent water from entering your home.
Benefits of Copper Rain Gutters
Copper gutters are an excellent choice for your home. The fact that they never rust or corrode is a huge benefit, and the joints are soldered together so you don't have worry about leaks either. They're also relatively easy to install, and you can use them on almost any type of roof.
They will never rust or corrode, and the joints are soldered together so you don't have to worry about leaks either. Coming in various colors - copper is perfect for those who live in warmer climates because it won't rot like wood does over time!
Copper gutters and downspouts make a statement about craftsmanship and quality. They stand out, showing off their supports and patina. You won't see seamless aluminum gutters blending into the roof structure like copper ones do!
Copper gutters are an excellent choice because they not only add value to your home, but they also increase the curb appeal because of their beauty and elegance. Plus they will last for decades, and if you're looking for a way to add some character to your home without breaking the bank, copper is the way to go!
What to Look for When Choosing a Copper Gutter Company?
When looking for a copper gutter company to install your gutters, there are a few things you should be looking for when making the decision. The first thing you should look for is the company's professionalism. In addition to this, they should have experience in installing copper gutters and have a good reputation. The last thing you want is to choose a company that doesn't have experience in doing copper gutter installations or has poor customer reviews on its website.
If you are looking for a professional and reliable copper gutter company, then look no further than Atlanta Gutter Specialists. Our company has been installing copper gutters around the Atlanta, GA area for years, providing the best service at a reasonable price. If you would like more information about our services or would like to schedule an appointment, call us at 1-877-516-3008 today!
Copper Gutter Services in Atlanta
Living near Atlanta, GA and are in need of a need of a copper rain gutter service for your home or business? Copper gutters are known for their durable elements, classic and appealing looks as well as extended lasting efficiency. Copper gutters deliver all these great aspects you would like to have in your home. If you haven't considered copper gutters for installation yet, it's time to embrace this high-end and reliable innovation our company can offer. Our team of experts at Atlanta Gutter Specialists is highly qualified and guaranteed to do the perfect job for your property.
We will gladly assist you with the process of choosing the right gutter for your home, as well as with the installation process. You can trust in our expertise and service to deliver the finest copper gutters for your property.
Copper Gutter Installation
You can rely on Atlanta Gutter Specialists to install copper gutters to your home professionally the first time. That means, from soldering the joints in a gutter system and hanging them up on your roof, we will do it for you. Installing copper gutters is a sensitive process; however, with our knowledge of how this should be done most effectively and safely there's no need for you to worry about anything when working with us!
First, we'll order the gutter system that's right for your home before anything else. We will take into account the shape of your roof, the size of your gutters, and other factors to ensure that we deliver exactly what you need.
When it comes to installing the gutters, we will make sure that everything is in place before starting work on your roof. This way, you get a professional job with no unexpected surprises along the way. We'll also ensure that all of our work is done safely and professionally so that you don't have to worry about anything related to installation of copper gutters on your Atlanta home.
Copper Gutter Repair
Because copper gutters have the potential to last such a long time, it is crucial that you repair them as soon as something seems wrong. However, uncontrollable elements like natural disasters can also lead to gutter damage. Rest assured because we offer solutions for these problems too!
Our customers often ask if they can repair the gutter on their own. Although this is possible, there are a few things to consider. First of all, it is not recommended for the inexperienced to do this themselves because it involves some heavy lifting and solder. Secondly, trying to repair a water damaged gutter yourself could lead to damage and cost you more money in the long run. Our experts at Atlanta Gutter Specialists offer gutter repair services which are much safer, cheaper, and faster than DIY projects.
Gutters that have been damaged by extreme weather or other factors should not be repaired without an inspection first. Our skilled technicians will evaluate your gutter and give you a recommendation as to which repairs are necessary to keep your home safe from water damage. Don't hesitate to call or come see us today!
Repairing copper gutters requires the use of rivets and solder as well as knowledge of sweating joints and seams. Any copper gutter repair done with caulk is basically ruined from the start, since caulk doesn't expand or contract with metal - while a soldered joint will create a watertight seam that makes the entire section react to weather changes like one piece rather than separate pieces.
Copper Gutter Maintenance
Maintaining your copper gutters properly is necessary for them to remain efficient. We provide a gutter maintenance program that helps you maintain the look and efficiency of your copper gutters. Our gutters are regularly inspected so we can assess their condition, no matter how they were installed or where they reside in relation to the other parts of your home's exterior.
If properly installed, copper gutters require very little gutter maintenance other than debris cleaning, like any other gutter system. Over time, copper slowly transforms from its original orange-red shiny color to a bright light-green called the patina. This process is natural, and protects the copper from further erosion. Homeowners may choose to treat the copper to achieve desired patina without waiting for the natural process to occur.
Our gutter maintenance program will check your copper gutters for these common causes of leaks and recommend ways to repair them. We will also supply you with a maintenance schedule and tips on how to handle these problems before they become much more serious and expensive to fix later down the road.
Copper Gutter Cleaning
Since copper gutters are located outdoors, so they're not safe from various elements such as garbage, molds, and mildew. That's why it is important to clean them in order to prevent any of these things from messing up their efficiency. We conduct a check on your copper gutters down to the downspouts and thoroughly clean them so that your gutters can be neat again just like brand new ones.
We also use a special product that is so safe for your copper gutters, so you won't have to worry about anything at all. We clean each section of the gutter from top to bottom, then we will leave it in its place.
If you're looking for a good gutter cleaning service then please contact us today.
Preventative Copper Gutter Maintenance Service
The best way to keep your copper gutters free of leaks and debris is to have your gutters cleaned every spring. This will help prevent the buildup of dirt and leaves, which can cause problems when combined with heavy rain. The best time of year to have your gutters cleaned is in the spring after a long winter has passed.
Professional maintenance and cleaning services will also ensure that all gutter parts are properly inspected for damage or wear and tear that may lead to leaks or clogs down the road. Our copper gutter maintenance service will remove all debris from the gutter, inspect for damage, and make any necessary repairs.
In addition to the beauty that copper provides, there is very little maintenance required when it comes to copper gutters, and they will last for decades.
Types of Copper Gutters
Standard copper gutters can be used in both residential and commercial properties. These gutters are available in various lengths, are very affordable, and they are easy to install. While these gutters will not rust or corrode, keep in mind that they cannot be pressure washed.
There are many different types of copper gutters which include:
Flush Gutters
These are the most common type of copper gutter and are available in various lengths. Flush gutters are made up of a vertical channel that is supported by either a wall or a roof. The vertical channel is then covered with a removable cap.
Box Gutters
This type of copper gutter has a flat bottom, and the gutters have an open top which allows water to flow out through the top opening. Box gutters have been used for more than 100 years, and they are very popular with homeowners because they provide excellent drainage while keeping debris out of the gutter.
Chimney Gutters
These types of copper gutters have a vertical channel which allows water to flow out through the top opening. They have been used for more than 100 years and are very popular with homeowners because they provide excellent drainage while keeping debris out of the gutter. Chimney gutters can be installed on chimneys or around the roofline, but it should be noted that these copper guttering systems do not provide any protection from fire or lightning strikes; therefore, it should always be installed properly by an expert plumber when installing chimney gutters which has been manufactured for this purpose.
CLIENT TESTIMONIAL
I had a great experience with Atlanta Gutter Specialists. They were professional and efficient during the installation of my copper gutters. The work they did was of the highest quality, and the gutters look fantastic. I would highly recommend Atlanta Gutter to anyone in the Atlanta area.
Copper Rain Gutter Questions:
Before purchasing new copper gutters you may have some questions. Below is a list of some of the most common questions we receive. If you don't see your question below please contact us and we will be happy to help you with your copper rain gutter project.
How do you keep copper gutters from turning green?
Copper tends to change colors over time and exposure to the sun. It is a high-quality material for gutters because it does not rust, rot or corrode like other metals do.
To keep them the gutters from turning green as quickly, you can apply an anti corrosion coating that also keeps dirt away from your guttering system so you don't have to clean them as often! This is a great solution to keep your gutters clean and looking like they were just installed. The coating will also help prevent damage from the elements, such as rain or severe cold that would otherwise lead to rusting and peeling of metal at the joints in older systems.
What are the advantages of copper gutters?
Copper is a material that has many advantages in gutter construction. It will not rust, so it lasts longer than other types of metal gutters. Copper also holds its shine better than other metals and looks spectacular when newly installed. Additionally, copper gutters are lightweight enough to install without bending or breaking during heavy rains or snow storms.
How long do copper gutters stay copper and shiny?
Copper gutters will start to lose the shine within days, and after a month or two they will really start to develop streaking, discoloration, and browning. After a year or two copper gutters turn green and blackish due to tarnishing. It is a good idea to have them cleaned and resealed about once a year.
Rather than being deterred by the process, many people find it to be an inherent part of the charm. There are methods available, however, which can delay or even reverse this patina process on copper gutters: for example- acid wash and chemical treatments.
How do you fix a leaking copper gutter?
Clean the area of debris and check to ensure that there is no damage. Then, use a wire brush or cloth to scrub off any existing corrosion from the copper gutter by dipping it in vinegar. Rinse with water and dry thoroughly before adding new sealant around each opening in turn while ensuring that they are tightly sealed shut.
Also to help prevent your copper gutters from leaking in the future is by installing a gutter or leaf guard.
Why does your copper gutter patina?
Copper reacts with oxygen and sulfur in the air to create a greenish-blue layer. This color is caused by copper sulfate, which is formed when water evaporates from the surface of the metal. This is called the "verdigris patina."
The patina develops more quickly in humid climates because moisture in the air reacts with oxygen to form this chemical compound, which then coats the surface of the metal, forming a protective layer that makes it less likely to rust.
How do you repair copper gutters?
If your copper gutters are in need of repair, there are two ways to go about it. The first is by replacing them and the second is patching them with metal adhesive. Replacing copper gutters can be expensive and time-consuming so this may not work for those who don't have enough money or free time. Patching your gutter seams using a metal adhesive solves any leaks that you might encounter while also repairing holes on larger sections of your roof's surface where it meets up with downspouts (eaves).
Do you need to solder copper gutters?
The answer is yes. If you plan to install copper gutters for the first time, then you will need a soldering iron to attach them properly. The gutter system must be attached tightly in order to prevent leaking and other water damage at your home or business property. Copper has supplanted aluminum as one of the most popular metal choices for roofing because it's more durable than aluminum and doesn't corrode like steel (which can leach chemicals into drinking water).
What is the best sealant for copper gutters?
When looking for the best sealant to use on your copper gutters, it is important to make sure that you are using a high-quality silicone or acrylic. The moisture barrier should also be installed before applying any sealant so as not to let water enter from your gutter and downspout which could lead to leaks and rot.
Are copper gutters expensive?
Copper gutters are cheaper than many people think. Consider how long they last and that they are lightweight as well- so you can see why copper is a great value for your money. Copper gutters are not just beautiful, they're durable and cost-effective as well. Maybe you've been scared off by the higher price tags of copper because it's so rare these days. Don't worry! Copper is still a great investment for your home even though there are less companies that make them nowadays due to its rarity in nature.
You'll be glad you invested in a copper gutter, which is sure to last 30 years or more - with no need for painting and cleaning over time.
Get Quality Copper Gutter Installation For Your Atlanta Home
Copper gutter installation is the best way to upgrade your home and protect it from water damage. Atlanta Gutter Specialists are experts in custom copper gutters that provide both a beautiful finished appearance and complete protection. We guarantee customer satisfaction at all times, so you can be confident that you will get nothing but the best from us.
As a full service gutter installation company, we can do much more than just installing gutters. We also offer a full line of gutter protection for you and your family to enjoy. Our gutter installation services are available throughout the Atlanta area including Alpharetta, Woodstock, Smyrna, Marietta, Norcross, Roswell and many more. If you are in need of quality service at an affordable price for your home or business in the Atlanta area then there is no better place to call than Atlanta Gutter Specialists today.
CLIENT TESTIMONIAL
I was in need of new gutters for my home and I am so glad I found Atlanta Gutter Specialists. Bruce and his team did an excellent job installing my new copper gutters. They were professional, efficient, and the quality of their work was exceptional. My home looks beautiful with the new gutters, and I would highly recommend Atlanta Gutter Specialists to anyone in the Atlanta area.
Why Hire Atlanta Gutter Specialists for Copper Gutters?
We have been doing business here in Atlanta for years and have consistently provided our happy customers with our gutter services and products. We guarantee customer satisfaction at all times, so you can be confident that you will get nothing but the best from us. We are also a green company and environmentally conscious. We only use eco-friendly products in our gutter installation process, so you can be sure that we are doing our part to help the environment.
In addition to offering quality services, we also make sure that every customer gets the best value for their money. We do not charge extra for weekends and holiday services, so you won't have to worry about additional charges on your final bill when it comes time to pay for our work. You will always get an estimate of your project before we begin working on it, so there's no risk involved in trying out our services.
Call us today at 1-877-516-3008 or contact us online to get started on copper gutter installation for your home.