Professional Gutter Cleaning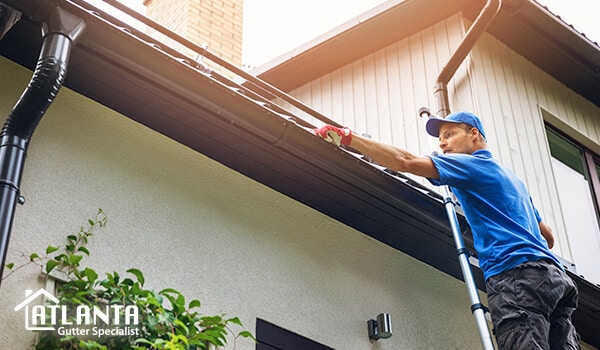 One of the most important aspects of home maintenance is keeping your gutters clean so they don't leak onto your roof and cause more damage. This can be a difficult task, especially for those who are not used to doing it. If you are in need of an Atlanta gutter cleaning service, we can help! Atlanta Gutter Specialists have been serving the local area near you for years and we understand how important it is to keep your gutters clean. We offer both residential and commercial cleaning services, so no matter what you need done, we can do it! Fill out our form or call us today and ask about our specials.
A few signs that you might need to have your gutters cleaned are green algae, leaves and other debris blocking the gutters and water overflowing from the gutter.
When your roof is leaking, it will eventually ruin your home, causing excess damage to floors, ceilings, walls, etc. Cleaning your gutters regularly can help prevent this from happening and save you money in the long run. Not only that, but it can also decrease your energy bill since you'll be preventing a lot of water from spilling onto your home unnecessarily.
If you want to avoid costly repairs to your home and increase savings on energy bills, then make sure you have someone clean out your gutters regularly!
Gutter Cleaning Service in North Metro Georgia / North GA
Atlanta Gutter Specialists provides professional gutter cleaning services in North Metro Georgia and surrounding areas. With our office conveniently located in Atlanta, we provide our clients with a variety of gutter related services!
If you want the best quality gutter cleaning service in the Atlanta Metro area, then contact us today! Our gutter cleaners are highly experienced and have been cleaning gutters for years and will ensure your satisfaction. We take pride in our work and will leave your gutters looking great!
We've provided top-quality gutter cleaning services to residential and commercial properties, churches, schools, and more. You can call us any time to setup an appointment with our team of professionals to get your gutters cleaned. We offer same day service in most cases, so you don't need to wait around for days on end. Our staff is friendly, knowledgeable, and professional. We will make sure that you're 100% satisfied with our services as we know how important it is for you to have a clean roof over your head!
How Often Should Gutters be Cleaned?
It is important for gutters to be cleaned out regularly, as it helps prevent them from leaking onto your roof and causing more damage. The frequency depends on how often it rains in the area where you live. If it rains more than once a week, it's best to clean them at least once a month. If it doesn't rain very often, then you should clean them twice a year.
Gutter Cleaning Services in the Atlanta, Georgia, Area
The accumulation of debris, leaves and dirt in your gutters can lead to expensive repairs. If you don't take care of them, they'll get clogged up with water that will eventually cause rainwater to spill through the roof and create a whole lot more destruction! Don't let seasonal downpours catch you unprepared by neglecting getting your gutters cleaned before it's too late.
Atlanta Gutter Specialists is the leading gutter cleaning service in Atlanta and surrounding areas. With our years of experience, we offer a variety of services to ensure that your gutters are clean at all times. Our team has been trained for efficiency so you can have peace-of-mind when it comes to having someone working on your property!
Our Gutter Cleaning company offers professional gutter cleaning service for Atlanta homes at fair rates - call today for an estimate on our services!
Why Let a Professional Clean Your Gutters?
There are many reasons why you should allow a professional to clean your gutters, but the most important is that a professional will know how to do it correctly. You could use a ladder or even cordless vacuum to remove debris from your gutters, but this can become dangerous quickly. Professional Atlanta gutter cleaners know how to clean them without putting themselves in danger. Not only will they be safer when cleaning your gutters, but they will also do it more efficiently and effectively than you would. If you're looking for an Atlanta gutter cleaning service in the area near you, contact us today! Your gutters will thank you for allowing us to take care of them.
What Does Gutter Cleaning Cost?
You may be wondering what does it cost for gutter cleaning? While this depends on the size of your home or office, there are some things that factor into the cost. The most obvious is how many stories you have and how high up gutters need to be cleaned. If you have a two-story house with gutters that are 8 feet off the ground, it will likely cost more than a one story house with gutters that are only 5 feet off the ground. We recommend getting at least a quote for your gutter cleaning needs so you know exactly how much everything costs.
Here are some other things that can affect how much it would cost for your gutter cleaning:
How many stories of your home do you want cleaned?
What type of gutters do you have (i.e., PVC, aluminum)?
Do you want all debris removed from each level of gutters or just the top level?
Do you need your downspouts cleaned as well?
Do I want my downspouts cleared
Frequently Asked Questions about Atlanta Gutter Cleaners
What are the benefits of hiring an Atlanta gutter cleaning service?
A professional Atlanta gutter cleaning service offers a variety of benefits. They will be able to spot any potential problems and address them before they become more serious problems. If your gutters are clean, you won't have to worry about potential leaks.
What is included in your Atlanta gutter cleaning package?
At Atlanta Gutter Specialists, we offer a variety of packages that include all your gutters cleaned from the ground up and inspected for any potential issues. We also offer services for both residential and commercial properties. Give us a call today for more information!
How do I clean my gutters?
The best and most efficient way to clean your gutters is to hire a professional.
If you want to attempt it yourself, the first step to cleaning your gutters is to thoroughly check the gutter system. Next, you should empty all leaves, branches and debris from your gutters before starting. It's also a good idea at this point to clean out any scum or rust with vinegar and water so that it doesn't build up over time in between the downspouts on roofs. Once the leaves are removed, you should rinse out your gutter system with water and apply anti-corrosion chemicals to prevent future damage from weathering and oxidation.
Should I clean my gutters with a pressure washer?
No! When you use a pressure washer on your gutters, it can cause them to crack and leak. Pressure washing is best for objects below the eaves of a house like siding or bricks. Gutters should be cleaned with a brush or broom and then rinsed out with a garden hose so you don't accidentally damage your property with too much water!
How often should my gutters be cleaned?
In order to keep your gutters as clean as possible, we recommend cleaning them twice a year. If you see any debris in the gutter, clean out the blockage immediately. This will prevent a chemical reaction that can cause your gutters to leak and damage your home's foundation.
If you have a gutter guard, make sure it is in good working condition. However if you don't use a gutter guard, be sure to inspect your gutters every few weeks to make sure they are unobstructed and not clogged with leaves or debris.
Keeping them clean will help you avoid any excess water damage. The best way to clean your gutters is to use a gutter scoop, which attaches to the end of your extension ladder and allows you to remove debris from the gutter.
- Inspect the gutters for any debris or dirt and remove it with an extension pole with a claw attachment on one end)
- Wash the leaves off of the screens by spraying them with a hose or by pouring water over them
- Remove any excess dirt and debris from screens using a long brush (or, if screens are too far down, replace screens).
- If needed, replace screens with new ones.
How do I know if my gutter is clogged?
If you are experiencing a lot of leaves or debris caught up in the blades, this could indicate that your gutters are clogged. You can also check to see if there is water on the ground beneath your home, as this often indicates something blocking the flow of water.
Can you avoid gutter cleaning?
To keep your gutters in good shape and to avoid gutter cleaning, it is important that you check them often for debris. It's also a smart idea to have a professional inspect the guttering too. Gutter cleaning is a crucial maintenance step that has to be done on the regular basis.
Because of this, it's best that you consult with professional experts such as Atlanta Gutter Specialists who know how to handle these jobs before doing anything drastic like taking action yourself without any training or knowledge.
Should I consider gutter guards?
Yes! Gutter guards can help prevent water from damaging your home's foundation by keeping debris out of the gutters and preventing damage from falling debris. Gutter guards can also prevent damage if debris does fall into the gutter system.
Why Choose Atlanta Gutter Specialists?
Atlanta Gutter Specialists is a gutter cleaning company that aims to take care of services in the most professional manner possible. Our owners and management team are educated, career-oriented professionals who strive for excellence in all things they do.
Our office is fully staffed with professionals who are always available to answer your questions, plus your home will be serviced by the best team in Atlanta. Our mission has been and always will be providing our clients a service of excellence that meets their gutter cleaning needs.
Our gutter cleaning services include but are not limited to:
*Gutter Cleaning
*Roof Drain Clearing
*Leaf Removal
*Gutter Guards
We are the highest rated gutter cleaning company on the Internet and have been consistently listed as a top-tier Atlanta service company by independent consumer groups. We go through extensive training and certification, plus all our crew foremen learn safety techniques, typical issues with gutters or roofs , diagnostic techniques for things like roofing problems or gutter cleaning, customer service standards. To learn more about what we can offer for your home or business, contact us today!