Local Seamless Gutter Repairs and Installation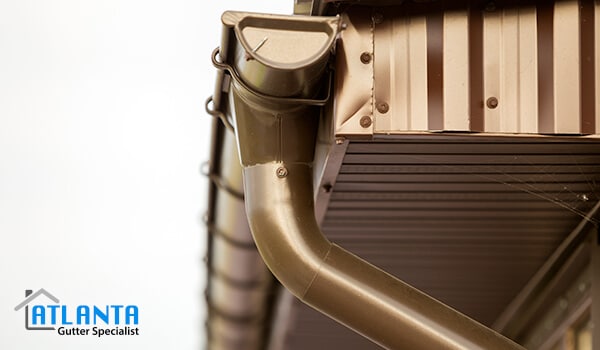 If you're looking for a reliable and affordable way to repair or install your seamless gutters, then you've come to the right place! Having a seamless gutter system is one of the best decisions you can make for your home. Not only are they aesthetically pleasing, but they also help protect your home from water damage and debris.
At our Atlanta-based company, we offer a wide range of repair and installation services for seamless gutters. Whether you need a simple fix or a more complex installation, Atlanta Gutter Specialists has the skills and experience to get the job done right.
When to Repair or Replace Your Seamless Gutters
Gutters are a vital part of your home's exterior. It is important to know when it is time for repair or replacement of your seamless gutters. The best time for repair is as soon as a crack or leak is noticed. If you wait too long, the damage can get worse.
Signs of Seamless Gutter Damage:
Cracks in the gutter itself or along the roofline
Leaks or pools of water under your gutters
Sagging or warped gutter sections
Broken or missing gutters
Atlanta Gutter Specialists, will provide you with expert analysis of your gutter problem and determine if a repair or installation replacement is the correct course of action. We offer seamless gutter services at competitive prices with unbeatable customer support services throughout the process!
What is a Seamless Gutter?
A seamless gutter is a type of rain gutters that can be installed without the need for any seams. This means no more unsightly ridge lines or joints in your home's exterior, which are common problems with other types of gutters and downspouts because they accumulate leaves, debris and branches easily. This prevents water from leaking out of the gutters and into the ground, which can cause flooding.
Seamless gutters are also easier to clean than traditional gutters, and they look more uniform than traditional gutters. These gutters are made of a flexible material that is durable, yet lightweight. Their flexibility allows them to withstand high winds and other extreme weather conditions. They are also resistant to the sun's UV rays, which helps prevent cracking, fading and discoloration.
What to Consider When Choosing Seamless Gutters?
Advantages of Seamless Gutters
One of the many benefits to a seamless gutter is that it improves air quality. Gutters are an important part of any stormwater management system, and they should be installed correctly so water flow is uniform and doesn't cause flooding. Seamless gutters also reduce noise from rain falling on roofs while they're still in operation and give flexibility when wind speeds are high.
Additionally, seamless gutters are a great way to improve the look of your home, and they can be designed to match any style or design. They're also easy to clean and maintain, so you don't have to worry about them getting dirty and clogged with debris. Seamless gutters are also very durable, which is why they're often used in high-traffic areas where there's a lot of foot traffic.
What to Look For When Choosing a Seamless Gutter Contractor
Atlanta, GA Seamless Gutters Services
Seamless Gutters Installation
Seamless Gutters Repairs in Atlanta
Seamless Gutters Replacement
Maintenance for Seamless Gutters
Seamless Gutter Cleaning Service
Types of Seamless Gutters
Seamless gutters can be made from aluminum or copper.
Aluminum
Aluminum gutters are more affordable than copper ones, but they don't last as long as copper ones do.
Copper
On the other hand, copper is more expensive than aluminum, but it has a longer lifespan and better resistance against corrosion and weathering. Copper seamless gutters are also easy to install because they come with pre-punched holes that make it easier to connect them to your home's gutters.
Frequent Seamless Gutters Questions
Atlanta Seamless Gutter Experts in Georgia
Why Use Atlanta Gutter Specialists for Seamless Gutters