Pressure Washing in Atlanta, GA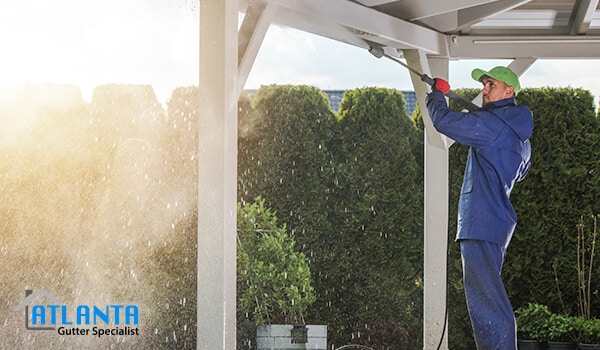 Atlanta Gutter Specialists provides pressure washing services for homes across the Atlanta metro area. Having your home pressure washed by a pro is an easy way to avoid any mishaps while also avoiding costly repairs later on! As a leading provider of pressure washing services, Atlanta Gutter Specialists is proud to be an industry leader in quality and safety.
We also pressure wash commercial properties as well as apartments, sports fields, schools, churches, hospitals and more. We are proud to be the best choice for all your pressure washing needs.
Signs It's Time To Pressure Wash Your Home
As a homeowner, you understand the importance of having your residence pressure washed on a regular basis. The exterior of your home is exposed to various elements throughout the year. As a result, it will be vulnerable to damage and deterioration if not washed regularly.
Keeping the exterior of your home clean is a way to prevent premature aging and degradation. In order for any process to happen, it must start with an initial step. Regularly inspecting the outside of your house will help you make sure there are no issues that could lead into major problems if not taken care of properly as well.
Here are some warning signs that it may be time for you to call on a professional pressure washing company like Atlanta Gutter Specialists.
Siding Is Dull or Dirty
Stained Driveways
Roof is Discolored
Overflowing Gutters
Bug Nests And Spider Webs
Deck is Embarrassing
Residential Pressure Washing Company

Advantages of Professional Pressure Washing in Atlanta, GA
However if you choose to pressure wash your own home, it will likely result in more than just dirt being removed from the surface of your property-it could damage or remove items like plants and furniture that might otherwise have been untouched by a professional.
Pressure Washing Services Near Me in Atlanta

House

Driveway

Brick

Vinyl Siding

Stucco
Gutters
Roof
Deck Cleaning
Paver
Concrete Cleaning
Fence
Wood Surfaces
Rust Stain Removal
Types of Pressure Washing

Power Washing
Pressure Washing
Soft Washing
Hard Washing

#1 Exterior Cleaning in Atlanta, GA

Why Choose Atlanta Gutter Specialists for Pressure Washing