Professional Gutter Installation Services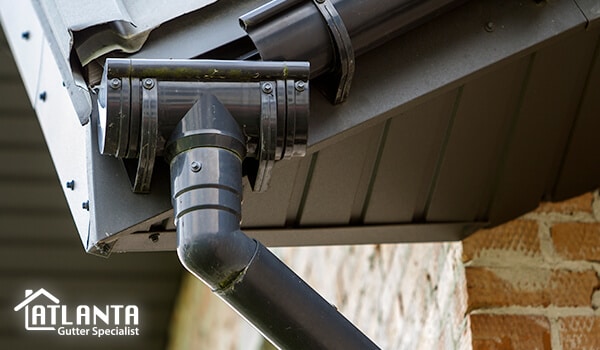 Atlanta Gutter Specialists is a local company that specializes in the installation of gutters, downspouts and rainwater control systems. They have become one of the most trusted gutter installers because they provide high-quality workmanship and professional service at an affordable price. When you want your gutters to be installed by experts who are experienced with their craft, call on Atlanta Gutter Specialists to help ease your worries!
Concerned Your Gutter Installation is Broken or Needs Repaired?
Being able to identify the cause of a damaged gutter system before it causes major water damage in your home can help prevent or minimize structural issues inside.
Our team of expert gutter repairs will fix your gutter installation for you when they are damaged. In order to keep up with regular gutter maintenance, it is important that debris from storms like hurricanes or tornadoes does not enter into the property later on. We can make sure all the storm debris stays out of them!
Gutter installation is a big job that requires professional expertise. We want to make sure your gutters are installed in the right way and last for a lifetime! With years of experience, we know how to get it done.
What is a Gutter Installation?
A properly installed gutter system can reduce the amount of debris that falls on your driveway and into your street, which is a nuisance and a safety hazard.
If your home or business has a roof, then chances are you need gutters. Gutters are installed below the roofline and function to prevent water, leaves, and other debris from collecting on the roof and eventually entering your home or business.
A gutter installation in Atlanta is an important part of any roofing project. At Atlanta Gutter Specialists, we do more than just gutters, but our extensive experience in roofing and gutters allows us to provide you with the best and most complete service available.
Items to Consider Before a Gutter Installation
A few things you should think about before making the decision to have gutters installed. Make sure to consider the type of gutter, size and where it will be installed. You also need to decide if you want gutters with a downspout or side-spouts, as well as whether they are going with seepage control systems or not. Once these decisions are made from there it's time for contractors who can provide a quote and get this job started!
Advantages of Gutter Installation in Atlanta, GA
Installing gutters in Atlanta, GA is a cost effective solution to fix drainage issues that arise from time to time. It's recommended for homeowners who want the job done quickly and efficiently by experts with experience and expertise.
If you're looking for a gutter installation company that is based in Atlanta and is prepared to help with your project, then it's time to call on the experts at Atlanta Gutter Specialists!
Another advantage that is associated with having our technicians install guttering system on your property is the time saved and hassle avoided which would have otherwise been incurred if you had installed these services yourself only after spending weeks researching about how one can go about doing so.
Here are a few of the benefits you can enjoy:
- Improved Water Drainage: Pooling and collecting water on the ground is a problem that leads to reduced drainage, which can be prevented by gutters.
- Reduced Flooding: Gutters are designed to prevent rain from overwhelming your home's foundation and flooding it.
- Cleaner Streets: A clean gutter is a valuable investment that will help prevent debris and mud from building up on the road, which can lead to reduced accidents.
- Enhanced Curb Appeal: Gutters add character and curb appeal to your home, making it easier for people to notice and appreciate.
- Improved Home Value: It is possible to improve your home value with a new gutter installation!
What Should I Look For When Choosing a Gutter Installation Company?
First and foremost, contractors should be licensed; they also need to show proof of their insurance coverage. Before starting work on your home or business, they must demonstrate that they have the right license and insurance in place.
If a company is providing you with their gutter installation services, make sure they provide you with a warranty. Often companies offer at least one year of free service for all the work done on your behalf, so if anything goes wrong during this period it will be fixed or repaired no matter what the cost.
It's important to take note of how long a company has been around and whether they have many happy customers. If this is the case, you'll likely be just as satisfied with your purchase as any other customer!
Atlanta Gutter Installation Services
The process of installing gutters is fairly simple service, especially if you are using a pre-fabricated gutter system. They come with the gutters and downspouts, which makes it easier to have them installed. This is also a good time to consider getting your roofing replaced while they are working on the gutters. The old roof will be an eyesore and you can replace it with a newer, more energy efficient one that looks better!
Local Gutter Installation
Are you looking for a local gutter installation service in Atlanta? Whether you're a homeowner, business owner or property manager, Atlanta Gutter Specialists can help. We provide the best quality of work at affordable prices and serve homeowners across Georgia with our professional services including rain gutters and downspouts. Our team members are experts from start to finish who ensure that your property is protected from all angles so that it's safe during any stormy weather conditions.
Gutter Installation Repairs in Atlanta
If you're in need of gutter installation repair service to help with drainage problems, our team is here for you. Our team has a proven track record in the gutter installation repair services industry. We offer gutter installation repair services in Atlanta, Georgia to help with your drainage problems.
Affordable Gutter Installation
If you're looking for an affordable and reliable way to have your gutters installed, then you should definitely give Atlanta Gutter Specialists a call. Our team of professionals is experienced in installing gutters of all shapes and sizes, and we can help you find the right solution for your home. We offer a wide range of affordable options that are sure to meet your needs, and we'll work hard to ensure that the installation goes smoothly.
Our professional gutter installation service is quick and efficient, and we'll make sure to get the installation done in a timely manner. We'll also make sure that you're 100% satisfied with the results. We've been in business for years and have a proven track record of delivering outstanding service to our clients.
Maintenance for Gutter Installation
Are you looking for a company that provides top-quality gutter installation and maintenance services in Atlanta? Look no further than our team! We are experts in the field, and our years of experience will ensure that your gutters are installed correctly and maintained properly.
Gutter installation maintenance is meant to prevent future damage and keep your gutters free of debris. This includes cleaning them out, inspecting the guttering system for any damages, and making sure that you have a clean roof at all times.
Atlanta Gutter Specialists has been providing top-quality gutter installation and maintenance services to customers in Atlanta for many years. Our team has extensive experience in this field, and we are confident that we can provide you with excellent service.
Professional Gutter Installation Cleaning Service
Are you looking for a reliable and affordable gutter cleaning service? Look no further than our professional gutter installation cleaning service! Our team of experienced cleaners will take care of everything from installing your gutters to cleaning them up.
We make sure that your gutters are cleaned in Atlanta, GA using the latest technology and equipment. Atlanta Gutter Specialists also makes sure that they are cleaned properly and quickly so you can rest easy knowing that your home is in safe hands. Our professional gutter cleaning service is available 24/7! So if you're looking for a reliable and affordable gutter cleaning service, look no further than our professional gutter installation service!
Types of Gutter Installation
When it comes to installing a gutter system in your home, you'll need to consider the cost of materials and labor. You should also be sure that whatever material is used inside or outside your gutters will last for long periods of time without any damage caused by weather elements like rain or snow. It's important not only to look at how much money you're spending on new parts but also what those parts promise in terms of longevity as well as their practicality with regards to different seasons (spring, summer, fall and winter).
In today's market, there are many different styles of gutters available. Aluminum and copper gutter assemblies provide a more traditional look while steel installs offer an array of colors to match your home or business.
Tributary or Downspout Gutter Systems
These are the most common, and they come in a variety of shapes. They can be installed horizontally or vertically over downspouts on your house, giving you options to fit them into just about any style home design. If you have multiple gables on your property this is an ideal option for you!
Horizontal or Flat-Flanged Gutter Systems
These are one of the more modern types of gutters. They're installed directly onto your home's siding and usually come in either horizontal or vertical varieties (but can be found in other shapes). These gutters are very easy to install, similar to how you don't need any special tools required for installation! Plus they look really good too.
Frequently Asked Gutter Installation Questions
Lots of homeowners have questions before they start a gutter installation project, and may find it difficult to decide which gutter company they should go with. Here are some questions and answers you might have before deciding.
How often should you clean your gutter installation?
This depends on the type of gutters that you have and how often they collect rainwater. Ideally, your installation should be cleaned twice a year to ensure it remains in good condition while also preventing stormwater overloads or flooding.
Why have a professional service my gutter installation?
It's important to make sure your gutter installation is done correctly and to the high standards which you expect. The professional installer will also be able to provide a warranty for their work, should anything go wrong with them; additionally, they'll have further knowledge of what type of gutters are best suited for your home's needs depending on size and shape so it can keep rainwater from causing damage!
What does a gutter installation repair cost?
Gutter installation repair costs can vary depending on the size of your gutters, whether they need cleaning or fixing and also if there is any other additional work that needs to be done. To get a more accurate estimate of what it will cost for you, give us a call at 1-877-516-3008.
Are new replacement gutter installations expensive?
The cost of a gutter installation can vary widely depending on the type, size and location. There are also different considerations that need to be taken into account when gutters have been installed already or a contractor is replacing them because they're damaged beyond repair such as obstructions like trees or buildings which may make installation difficult but it doesn't change the fact that some contractors will charge more for this kind of work than others.
How do I clean my own gutter installation?
Gutter installation is a dirty and sometimes dangerous job, so it's best to hire the professionals. However, if you're looking for a DIY project then consider buying some of your own cleaning equipment!
How to I fix gutter installations on my home?
Gutter installation is a common part of home construction, which can provide protection from rain and falling debris while also providing drainage for potential water runoff during heavy rainfall.
If you feel like something is wrong with one of the gutters at your property, it might mean that there was an issue during installation which has since gone unnoticed until now or even worse; until recently when weather began affecting them again. In cases where this happens, it's best to call a professional company such as Atlanta Gutter Specialists to fix your gutter installation and ensure they last for years to come.
What is included in your Atlanta gutter installation service?
Atlanta Gutter Specialists offers gutter installation services, rain gutters, and siding cleaning. They will ensure your satisfaction by checking to make sure proper drainage is in place and inspecting the workmanship. The available gutter installation and cleaning services are for residential, commercial and industrial properties. Our goal is to provide the best in service for each customer.
How do I know if my gutter installation is clogged?
Near your property's downspout, leaves, pine needles or other yard waste have collected and are blocking water from flowing through the pipe. If your gutter installation is clogged, the water will spill over, causing water to pool in the gutter and overflow onto your property. This is an indication that you may need a gutter cleaning service from Atlanta Gutter Specialists.
How do I know if my gutter installation is damaged?
If water is dripping from the ceiling during a rainstorm, that could be an indication of something not going well with your gutters. The gutters may have been damaged by trees, roots or loose shingles over time and are in need of repair before further damage occurs. You can contact our team directly if you would like to get expert advice about necessary repairs but wish to do so sooner than later!
Can you avoid cleaning your gutter installation?
The short answer is no. A gutter installation that has not been taken care of regularly will get worse over time and eventually stop functioning. The best way to prevent this problem is by calling in Atlanta Gutter Specialists as soon as possible, who can handle the cleaning for you.
Can I put off fixing my gutter installation?
No, you should fix it as soon as possible. The longer you wait to have your gutter installation fixed the worse it's going to be. Atlanta Gutter Specialists has the capability to do a complete installation for both residential and commercial properties.
Is it ok to pressure wash my gutter installation?
You should not use a pressure washer on your gutter installation as the water will be too strong and may damage your gutters. Some people might want to pressure wash their installations, but it is strongly advised that this decision be made with caution as there are serious risks involved in using such equipment without fully understanding its capabilities. We suggest that homeowners use a garden hose to clean gutter installations.
What is the process for replacing a gutter installation?
Professionally replacing gutter installations is a simple process. You'll need to call Atlanta Gutter Specialists at 877-516-3008, set up an appointment with our team and then have them come out to your home or business property for their estimate of how much it would cost us based on the materials we need (unless otherwise specified).
Is it safe to install my own gutter installation?
It is not safe to install your own gutter installation. We recommend contacting a professional for help with this job because it can be dangerous and you could damage your property without realizing what's happening. If you are unsure of the job, call us to find out if we can assist you in doing so!
What is the best type of gutter installation?
The best type of gutter installation for homes in Atlanta is a fiberglass material. It's highly durable, lightweight and will last many years with proper maintenance. There are two types of fiberglass that are most popular: "woven" and "recycled".
The woven fiberglass is made from recycled plastic bottles. It's great because it costs little and has a low profile, but over time its surface becomes more likely to become brittle over time.
Recycled fiberglass is made from plastic bottles that have been sorted out into their various components. Recycled material last longer than the woven variety and it is not as susceptible to deterioration.
Our Gutter Installation Team Serves Atlanta and the Surrounding Areas
If you're interested in having new gutters installed on your home or business, Atlanta Gutter Specialists can help. We are a full service roofing company that offers everything from roof installation to gutter installation. Our team of certified gutter experts will perform the work quickly and professionally, ensuring that your new gutter installation lasts for years to come.
Atlanta Gutter Repair Service in Atlanta, GA
We provide gutter installation in the Atlanta, GA area which includes the following zip codes: 30004, 30005, 30309, 30317, 30327, 30328, 30342, 30349 and 30355, plus all of greater Atlanta as well as some surrounding areas such as Marietta, Stone Mountain and Lawrenceville.
Why Choose Our Gutter Installation in Atlanta?
Atlanta Gutter Specialists provides first-class service at a reasonable price. We take the time to make sure that your gutters are installed properly to prevent water from leaking into your home or business. We also offer a lifetime warranty on our workmanship, so you can rest assured that your new gutters will be around for years to come.
We do more than just install new gutters; we also install gutter guards that prevent leaves and other debris from entering your home or business through the downspouts. We also provide services for gutter cleaning and repair, which are necessary every few years to keep your system running efficiently.