Local Gutter Guard Service Professionals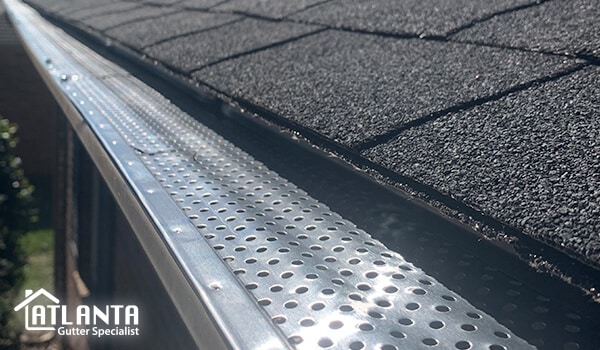 We offer a range of gutter guards for your home at competitive prices. With our professional gutter service, you can be sure that the quality of the installation is unmatched since we have many years of experience and always provide great customer service to our customers.
Our locally trained technicians will install the gutter guards, which you can get an upfront estimate for. Please contact us right now if you want our company to install your gutter guards. We'll respond to your inquiries and help you choose between various kinds of gutter guards available for your Atlanta home.
Atlanta Gutter Specialists can help you make an informed decision on which options will best protect your home's gutters. Georgia residents have trusted us to install customized gutter guards for their homes for numerous years now because of quality workmanship and excellent customer service at competitive pricing.
Signs You May Need to Repair or Replace Your Gutter Guards
The first sign that you may need to replace your gutter guards is when leaves, needles, or branches clog the opening of your gutters. The second and more obvious signs are water pooling around the foundation of your home because rainwater isn't draining properly due to blocked gutters.
To prevent this from happening in the future it might be a good idea to install new gutter guards every 3-5 years depending on how long they last for before getting damaged by debris or being worn out after constant exposure to harsh weather conditions year round.
If you have either of these signs, it is time to have your gutter guards inspected and possibly replaced. Water damage can be costly and time-consuming to fix. Don't wait until it is too late to call a professional.
What is a Gutter Guard?
Gutter guards are protective coverings for gutters that are used to stop debris from entering your home's foundation. The guard will work by stopping leaves and other debris before they enter the gutter, where it can then be washed away with rainwater. Gutter guards come in many different shapes and sizes depending on the type of gutters you have installed.
In addition to preventing debris from entering your gutters, these guards will also help prevent water from leaking into your home's foundation. This is because the leaves that can fall in the gutter are usually wet, and they will weigh down the guard. As a result of this, the guard will then sag, and it will keep water inside of it. When this happens, water will not be able to leak into your foundation. Gutter guards are especially helpful because they are used to prevent water from entering your home's foundation. This is especially important if you have a basement, as it will keep your basement dry. If you have a basement that has ever flooded, you may want to consider using gutter guards.
What to Consider When Choosing a Gutter Guard?
The first thing you need to think about is if you want metal brackets at the bottom of your gutter guard, which will keep it from slipping down into your gutters over time, or if you want to stick it directly onto them with special adhesive strips. If you choose brackets, make sure they are made out of metal as well so that they do not rust and leach rust when water passes through them.
You should also consider whether or not you want a cover for the top of your gutter guard, which will keep out leaves and other debris from getting inside of it over time as well as keep rainwater from pooling inside.
Finally, consider whether you want a gutter guard with a leaf basket. These are devices that attach to your gutter guard and will catch leaves as they fall from your trees. They can be an essential part of a gutter guard because without them leaves and other debris could clog up the gutters and cause water to back up in them.
Advantages of Gutter Guards in Atlanta, GA
Gutter guards are a fantastic investment because they help protect your gutters and downspouts from leaves, insects, debris, firewood and many other things that would otherwise accumulate in the guttering. They also help to prevent water damage caused by clogged gutters which can cause peeling paint on your fascia boards or rot of the wood around them.
As the gutter guards are installed over the gutters, the rainwater is directed down into the guttering to be used. The water then flows through a pipe at a slight angle from the downspout and out of your home. This also helps prevent water from being channeled to your foundation and causing damage to your home.
Gutter Guards in Atlanta, GA can eliminate many issues with your gutters:
• Leaves clogging gutters and causing damage to fascia boards or siding
• Water damaging siding and fascia boards on homes or businesses
• Insects, debris and firewood accumulation in gutters which can lead to rotting wood around them
• Pressure washing away paint from fascia boards on homes or businesses
Gutter guards are used to block leaves from blocking the gutter. This can save your home's foundation, plumbing system, and exterior walls because water will not have a chance of seeping in when it hits these surfaces. Gutter guards also keep roofing materials dry which could be beneficial for homeowners that need new roofs or like to maintain their current ones.
For years, Atlanta Gutter Specialists has been installing and repairing gutter guards for home owners like you! To learn more about the benefits of gutter guards or to schedule an installation, contact Atlanta Gutter Specialists today!
Atlanta Gutter Guard Services
Atlanta Gutter Specialists can help protect your home from moisture and debris by installing a gutter guard system. We provide a wide range of gutter guard services. From cleaning to protection and more, we do it all! Services for gutter guards include: gutter guards, gutter guards installation and maintenance, gutter guards repair and replacement.
Contact us today to learn more about our gutter guard services in Atlanta.
Gutter Guard Installation
Our team of experts is ready to help you with installing your new gutter guard! Atlanta Gutter Specialists is a well known company in the Atlanta area, and we are proud to offer our services throughout Georgia. We've been around for years and know what it takes to install a quality gutter guard on any house. Our goal is that your home remains beautiful while also being protected during rainstorms or other inclement weather!
With our gutter guard, you can rest assured that there will be no more water damage due to poor gutter installation. We've seen it all! Poorly installed gutters that are not sealed properly are a huge problem. That's why we take the time to make sure that your new gutter guard is installed correctly. Our team of experts will ensure that your home is protected from water damage and leaks for years to come.
Atlanta Gutter Specialists has been protecting homes for years by providing quality gutter services. If you are in need of any installation assistance with gutter guards, contact us today!
Gutter Guard Repairs in Atlanta
Atlanta Gutter Specialists are the company you want to call when your gutter guards needs repaired. With their expert knowledge and experience, they will get the job done right! They have been servicing Atlanta with all of its gutter guard repairs for years.
Gutter guard repairs are an excellent option for saving time and money when it's not necessary to replace or remodel after damage has occurred. The gutter guards on your home are in place to protect your roof and the inside of your home.
When it comes to repairing gutter guards, Atlanta Gutter Specialists are the best choice for you. We have years of experience and know how to fix any kind of problem that may occur with your gutter guards. Whether it's a small repair or a complete tear-off and replacement, we can do it all for you. Maintenance plans are also available so they can keep up with any repairs that may be needed before they become major problems.
If you're in need of gutter guard repairs, don't hesitate to call Atlanta Gutter Specialists today!
Affordable Gutter Guard Replacement
As the experts in gutter guard replacement, we offer high-quality service at an affordable price. We understand that you are looking for a company that cares about your home and property just as much as you do. That's why we take pride in our replacement services to ensure maximum safety from rainwater damage.
If you're looking for a gutter guard replacement expert in Atlanta, look no further than the experts at Atlanta Gutter Specialists. We offer a protective guttering system that is guaranteed to last years and we will replace any type of existing gutter guards. Our team of gutter guard replacement experts can also repair or install new ones on your home or business so they are protected from water damage.
Atlanta Gutter Specialists is the company to call if you're looking for a professional to help with your gutter guard replacement needs.
Maintenance of Gutter Guards
Rain gutters and gutter guards are very important in the overall maintenance of your home. If they are not properly maintained, they can cause severe problems such as foundation rot. It is very important that you take care of them on a regular basis.
Gutters are typically cleaned on a yearly basis or more often if needed. It is important to remember that gutter guard maintenance ensures your gutters and downspouts work properly, so rainwater doesn't get clogged up inside them and make the foundation of your house damp. This can lead to severe problems, such as foundation rot.
In addition to gutter guards, your rain gutters as well as downspouts need professional maintenance on a regular basis. This way, we will be able to see if there are any leaks developing in your rain gutters or downspouts and take action if necessary.
Professional Gutter Guard Cleaning Service
When you decide to hire Atlanta Gutter Guards, our team of technicians will come to your property and clean any debris that has accumulated in the gutters and gutter guards. This can be an important part of maintaining a clean, healthy home. A lot people don't realize just how much time is wasted during when they have to clean out their own gutters because there are so many leaves, dirt, or other items gathered since the last cleaning.
Hiring a professional to clean up any debris from the house can help prevent damage. If there are leaks in your roof or guttering, then it is best that these areas are cleaned so that water does not get inside of them. Watering these sorts of spots can lead to mold growth on your home or in its walls.
If you are still looking for a reliable team to clean your gutter guards in Atlanta, we recommend that you call our office at 1-877-516-3008. We look forward to providing quality service and helping with any of your gutter cleaning needs!
Types of Gutter Guards
There are three common materials used for gutter guards: aluminum, steel, and PVC plastic. Additionally, there are two styles of gutter guards that you can choose from. The first type is the removable gutter guard that is installed on the bottom of your gutters and the second type is the non-removable gutter guard.
Aluminum
Aluminum gutter guards are lightweight but prone to corrosion if it gets wet or covered in leaves over time.
Steel
Steel gutter guards lasts a long time without rusting because of its thickness; however it weighs more than aluminum which can cause clogs in gutters especially on houses with pitched roofs when snow piles up around the guards during winter storms since water cannot run off as easily through them then.
PVC
PVC is the most popular material for gutter guards because of its lightweight and strength qualities. PVC gutter guards come in variety of colors and can be painted to match your house, so they're not an eyesore.
Removable Gutter Guards
The removable gutter guards are used in order to protect against possible debris or snow during winter season. This type of gutter guard will be attached to your gutters with screws so that it will remain on your gutters until you remove it before winter season comes.
Non-Removable Gutter Guards
The non-removable gutter guards stay on your gutters even in winter season and prevents debris or snow from entering your gutters. This type of non-removable gutter guard works by closing off all gaps between the downspout and the roof, thereby preventing any debris or snow from entering into your roofing system through those gaps.
Gutter Guards FAQs
How often should your gutter guards be cleaned?
Well, it all depends on the type of gutter guard that you have. Some need to be cleaned more frequently while others are designed to not require much attention at all.
Your best course of action is to consult the manufacturer of your gutter guards for frequency. More often in general means better preservation and less buildup, but you should also make sure that any restrictions on roof access are observed for safety reasons as well.
Why have a professional service my gutter guards?
With the right professional, you will have a gutter guard that is custom-made, designed to your specific needs. A professional service will not only make sure it fits correctly and looks nice but also makes sure there are no spots for pests or debris to get in. You can be certain this is done with precision because they do these types of jobs all day every day! With their expertise and years of experience working on many other homes helping them out; you needn't worry about any problems coming up during installation as we've been doing this for decades.
What does a gutter guard repair cost?
We are unable to answer this question without more information. What type of gutter guard? How large is the house? Are there any other issues you have, such as drainage or repairs that need to be completed by our company at this time? If so, please give us a call and we will provide you with further guidance on what it would cost for repair services from our company.
Are new replacement gutter guards expensive?
Replacing your old gutter guard with a new one is not necessarily expensive, especially when it comes to gutters. Gutter guards come in many shapes and types to fit any budget. The most important thing about replacing them will be the material you choose: aluminum or plastic? The aluminum ones are more expensive and the plastic ones are cheaper. That's why you need to decide which one is best for your budget.
How do I clean my own gutter guards?
There is no reason to risk damaging your gutter guards when you can have them cleaned by a professional. They know how and where to clean with the necessary attention, which means they will not damage your gutters while cleaning. This is why it's always best if someone else cleans the guards for you.
How to I fix gutter guards on my house?
If you are looking for a solution to your gutter guard problems, the best thing to do is contact an experienced professional. A company such as Atlanta Gutter Guards will be able to provide quality service and give you more details on what may have gone wrong with your guards too.
What is included in your gutter guard service?
We offer the best in gutter guard installation and repair services in Atlanta. With us, you can rest assured that your gutters are protected against clogs and overflowing rain water. Every customer is provided with a complete quote upfront before any work is started. This quote will contain all of the details of the particular service your home needs so you'll know upfront exactly what to expect from our company.
How do I know if my gutter guards are clogged?
It's difficult to know if your gutter guards are clogged without looking at them. One way to tell is by the water coming out of them. When they're not clogged, the downspouts will be free-flowing and clear. If there is a lot of debris in gutters (dry leaves or wet mud), it may indicate that something blocked those drains from draining properly—either dry leaves or wet mud depending on whichever time it is.
How do I know if my gutter guards are damaged?
Your gutters have to be inspected for any signs that they are not working properly. A few things you can look for when inspecting your gutter guards include:
1) The guard is crooked or hangs down in some places
2) Your roof shingles may show water stains and the fascia boards may start rotting away
3) The guard has holes in it or is missing pieces
4) The gutter guard is missing or damaged
5) There are bricks or debris on the inside of the gutter guard
6) The gutters are leaking water into your house.
Once you find any of these things, immediately call a professional to come and inspect your gutters. A professional will be able to tell you whether the gutter guards are damaged and will be able to find out how much damage is done. This can prevent future damage from occurring and save you money in the long run. Remember, if you want to avoid future problems with your gutters, it's best to have them inspected before any major storms hit.
Can you avoid cleaning your gutter guards?
No it's never good to avoid cleaning your gutters or gutter guards. The reason is that when you don't clean them they will accumulate leaves, twigs, other debris and will not do their job in keeping your gutters clear. You can avoid this by making sure that you are cleaning them at least twice a year. If you live in an area where there is a lot of rainfall, it's best to make sure you clean them more often.
Can I put off fixing my gutter guards?
Generally, it is not advised to put off fixing your gutter guards. The longer you wait, the more damage will be done and the more expensive your repairs may become. Gutter guards can do a lot of good for you by keeping leaves out of your gutters so they don't clog up or overflow into your house during rain storms.
If left unrepaired, these problems could lead to greater expenses down the line such as: mold growth on interior surfaces like drywall; warping floors; rotting wood fascia boards around windows/doors due to excess moisture.
Is it ok to pressure wash my gutter guards?
It is not advised to pressure wash your gutter guards. Pressure washing can damage the material that the guard is made from and could even disrupt the sealant on it, which would lead to leaks in rain water runoff.
What is the process for replacing gutter guards?
Replacing gutter guards is a simple process of removing the old guard and then cleaning up any grease, mold or mildew that might still be present. Next you'll want to set up and install your new gutter guards following all manufacturer guidelines for installation (based on gutters height). You can finish by caulking around both sides of each individual panel as well as in between panels where they meet along top edges inside the guttering line.
Is it safe to install my own gutter guards?
While it is possible to install your own gutter guards, this is a job best left for a professional. If you decide to tackle this project, it is important to note that there are some risks associated with this as well. For example, if you do not install them correctly you may damage your home or cause yourself personal injury. It is always better to leave things like installing gutters up to the experts!
What is the best type of gutter guard?
The best type of gutter guard is the one that will last. You want to make sure you are getting a quality, long-lasting product when it comes to your home's gutters and downspouts.
Our Gutter Guard Team Serves Metro Atlanta, and Surrounding Areas
Atlanta Gutter Specialists is a residential and commercial gutter protection service provider. Our gutter protection services, which are available across Georgia, includes gutter cleaning, gutter installation, gutter repair, and other gutter related services. We also perform installation of gutter guards to minimize damage from falling debris and leaves.
Why Choose Atlanta Gutter Specialists for Gutter Guards
Gutter guards can be a great investment for your home to protect the gutters from leaves, pine needles, twigs which might find their way into the gutter system. The installation of these protective systems should always be left to professionals who have experience installing them on different types of roofs. The professionals at Atlanta Gutter Specialists have the experience and tools necessary to install these gutter guards in a professional manner.
The gutter guards which we offer here at Atlanta Gutter Specialists are made from a combination of high-quality materials that are very durable. This is one of the main reasons why our customers have been choosing us for the last decade. With a wide selection of materials, including aluminum, copper and stainless steel as well as different colors such as white or black available to choose from.
Atlanta Gutter Specialists are experts in this field with years worth of knowledge satisfying customers across metro area by providing quality service at affordable prices. Atlanta Gutter Specialists is a family owned and operated business with years of experience satisfying its customers. We are committed to providing the best customer service in the industry.