Protect Your Home with the Best Atlanta Roof Repair Contractor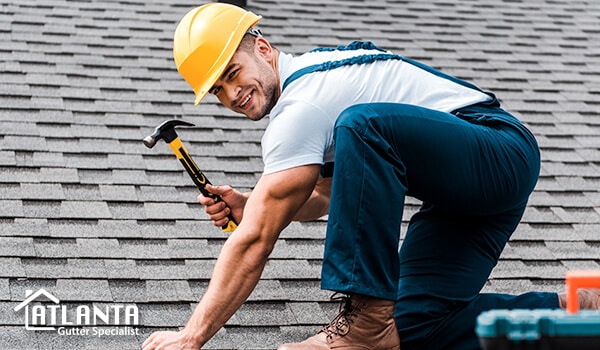 As a homeowner, there are few things as crucial to the health of your home as maintaining your roof and gutter system. Without proper care, your property can fall victim to damage from leaks, decay, and even structural failure. The importance of regular maintenance, repair, and installation of gutters can't be overstated. At Atlanta Gutter Specialists, we are committed to providing you with premier roofing services that prioritize your home's longevity.
Our team of dedicated professionals is renowned for its expertise in gutter installation, repair, and maintenance in Atlanta, Georgia. We understand the unique challenges and needs that Atlanta homeowners face when it comes to their gutters. As a local business, we can offer personalized, efficient service with the knowledge and expertise of a national chain. But enough about us, let's delve into why you, an Atlanta homeowner, might need our services.
CLIENT TESTIMONIAL
I gotta say, Atlanta Gutter Specialists is top-notch! My roof was damaged in a storm, and they came to the rescue. The team was fast, efficient, and friendly. I live in Sandy Springs, and their office in Atlanta made it convenient for me. Thanks, Bruce Mills and the gang!
Worried About Your Atlanta Home's Roof Repair Needs?
As an Atlanta homeowner, you've probably questioned the need for professional roof repair or gutter installation services. The reality is that the roof and gutters of your home are its primary protection against weather conditions. Atlanta's searing summers and unpredictable rainy seasons subject your home to a variety of weather challenges, making it essential to keep your roof and gutters in optimal condition. This not only prevents expensive damages but also enhances the lifespan of your home.
Damage signs like missing or cracked shingles or ceiling water spots could indicate your roof needs immediate professional attention. Similarly, sagging gutters, visible cracks, or water pooling around your home's foundation could mean it's time to reach out to a gutter installation professional. At Atlanta Gutter Specialists, we understand the severity of these signs and are dedicated to providing immediate, top-notch solutions.
Why Your Atlanta Home Deserves Top-Tier Roof Repair Services?
Regarding roof repair and gutter installation, you might question, "Is it beneficial to engage a professional service provider?" In a nutshell, yes. As an Atlanta, GA, homeowner, spending on professional roof repair services can give you tranquility, secure in the knowledge that your home is safeguarded against potential weather-induced damages. Our team of skilled professionals not only assures that the work is performed correctly but also aids you in preempting future issues by identifying and rectifying potential problem spots.
Having a professional roof repair company on speed dial isn't an extravagance; it's a necessity. In a city like Atlanta, where architectural aesthetics and structural integrity must go hand in hand, professional roof repair services aren't just about fixing what's broken. They're about maintaining and enhancing the charm of your home while ensuring that it can withstand the forces of nature.
Recognizing Crucial Roof Repair Needs
Identifying when professional intervention is required can shield you from substantial damage and expensive repairs in the future. Several signs of urgent roof repair needs encompass leaks, damaged or missing shingles, and the growth of moss and algae. A proficient roof repair service in Atlanta can evaluate the situation and deliver the necessary solutions to guarantee the maintenance of your roof's condition.
Roof damage rarely occurs overnight. It's often the result of prolonged neglect and underestimation of small issues. Regular inspections and prompt addressal of minor issues can save you from significant repairs or even replacement in the long run.
Does Your Home Need Regular Roof Maintenance?
Guaranteeing the longevity of your roof is heavily reliant on routine maintenance. Yearly inspections by a professional can help pinpoint potential issues before they escalate. Regular maintenance not only prolongs the lifespan of your roof but also safeguards against unexpected repair costs.
Remember, your roof is an investment, one that protects your home, your family, and your peace of mind. Ensuring that this investment is well-maintained should be a top priority. With the assistance of a professional, you can ensure your roof continues to serve its purpose for years to come.
Why Is a Professional Roof Repair Contractor a Wise Choice?
Though some homeowners might be inclined to handle roof repair or gutter installation tasks independently, hiring a professional contractor usually turns out to be the more judicious decision. A professional brings a wealth of experience, skill, and appropriate tools to the job, guaranteeing that your roof repair or gutter installation project is accomplished safely and efficiently.
The DIY approach might seem appealing, but it comes with its risks and uncertainties. Without the right tools and expertise, you could potentially create more problems than you solve. A professional roof repair company ensures that all work is carried out to the highest standard, giving you peace of mind and freeing up your time for other important tasks. In short, it's an investment that pays for itself in terms of time, effort, and quality.
---
Roof Repair Services Explained
Let's break down what roof repair services really entail. Roof repair goes far beyond the mere act of mending leaks or substituting broken shingles. It's a comprehensive process that aims to safeguard your home, fortify its security, and ensure it remains resistant to adverse weather conditions. A superior roof repair service, like the one we provide here in Atlanta, Georgia, does more than just solve your immediate roofing issues. It's a preventive measure that helps to avert potential roofing troubles that might spring up in the future.
Consider roof repair services as an investment that ensures the health and functionality of your home. It's not merely about fixing what's broken, but also about maintaining and enhancing the overall wellbeing of your property. Roofing contractors in Atlanta, GA, like us, take pride in offering an all-encompassing approach to roof repair. This means that we don't just resolve immediate issues, but we also analyze the root cause of the problems to prevent them from reoccurring.
Protecting Your Home's Value with Roof Repair
Investing in professional roof repair services does wonders for your property. One significant benefit that often goes unnoticed is the positive impact it has on the value of your home. Maintaining a well-kept roof and gutter system improves the overall aesthetics of your property, making it an attractive prospect if you ever choose to put it on the market.
It's not just about aesthetics, though. A properly maintained roof ensures that your property stays in good health, which potential buyers will definitely appreciate. This means that the money you invest in roof repair now can provide you significant returns if you decide to sell your property down the line. Additionally, keeping up with regular roof maintenance and gutter installation helps avert expensive repairs in the future. It's about being proactive and staying ahead of potential issues before they morph into larger, costlier problems.
Scheduling Roof Repair Services
The frequency of your roof repair largely hinges on the age and condition of your roof. As a general guideline, it's wise to arrange for a professional roof inspection at least once a year. Remember, a year in Atlanta, Georgia can subject your roof to a lot, from searing summers to unpredictable storms.
An annual check can help identify and rectify any budding issues that might otherwise go unnoticed until they escalate into bigger, more expensive problems. If your home has endured a particularly severe weather season or a significant storm, consider getting an additional inspection. When it comes to the health of your roof, being extra cautious can never hurt.
The Benefits of a Professional Residential Roof Repair Company
When it comes to your residential roof repair needs, choosing a professional service provider can make all the difference. Handing over the reins to a professional ensures that your home is under the care of experts who bring years of experience and specialized skills to the table. When you opt for professional service in Atlanta, GA, you can look forward to the use of high-quality materials, expert installation techniques, and a customer service experience that leaves no room for dissatisfaction.
Choosing a professional isn't just about the top-tier service you receive, it's also about the peace of mind that comes with it. Knowing that your home is protected by experts gives you the confidence that it can withstand the test of time and weather. This reassurance is invaluable, particularly when the longevity and protection of your home are at stake. A professional residential roof repair company, like ours, strives to deliver services that offer this assurance, every time.
---
Benefits of Hiring a Local Georgia Roof Repair Company
Local businesses often possess an intrinsic understanding of their area that just can't be replicated by a larger, national chain. This is especially true when it comes to home maintenance services like roof repair and gutter installation. And if you're a homeowner in Atlanta, Georgia, having a team that understands the unique challenges that the local weather and building standards present can be a significant advantage.
Let's take Atlanta Gutter Specialists as an example. Our team is composed of professionals who live and work right here in Atlanta, making them intimately familiar with the specific needs of homes in this area. They've seen first-hand how the scorching Georgia summers and sporadic rainy seasons can affect the integrity of a roof and gutter system, and they know exactly what to look for and how to address these issues. Because we're a local business, we're also deeply invested in the community we serve, and we always strive to provide the highest quality services tailored to the unique needs of each Atlanta home.
Criteria for Selecting Your Roof Repair Contractor
Choosing a roof repair contractor might seem daunting, but it doesn't have to be. A few key things can help you narrow down your options and make an informed decision. One of the most important factors to consider is the company's reputation. Do they have a history of positive customer reviews? These reviews can often provide a glimpse into what your experience might be like.
Next, consider their level of expertise. Years of experience in the industry can be a good indicator of the knowledge and skills they bring to the table. And don't overlook the importance of excellent customer service. After all, you'll be entrusting this company with the care of your home. You want to feel confident that they'll treat you and your property with respect, communicate effectively, and be responsive to your needs.
What Sets Atlanta Gutter Specialists Apart in Atlanta, GA?
With so many options out there, you might wonder what sets Atlanta Gutter Specialists apart from other roof repair companies in Georgia. Our commitment to providing high-quality, reliable service is one of the major factors. We prioritize our clients' needs above all else, and we're dedicated to ensuring their satisfaction.
In addition, our team of local experts brings a level of professionalism and expertise to each project that is unmatched. Whether it's a minor roof repair or a major gutter installation, we handle every job with the utmost care and attention to detail. We don't just see it as fixing roofs and gutters; we see it as helping our neighbors protect their homes and improve their quality of life.
Why DIY Roof Repairs Could Cost You More
In an era of DIY tutorials and home improvement shows, it can be tempting to tackle roof repairs or gutter installations yourself. While this might seem like a cost-effective solution, it can often end up costing more in the long run. Roofing and gutter systems are complex, and without the proper training and tools, it's easy to cause further damage.
In addition, improper repairs or installations can lead to issues down the road that might require even more costly fixes. Hiring a professional from the start not only ensures the job is done right but can also save you time and money by avoiding potential issues. So, before you break out the ladder and hammer, consider reaching out to a professional roof repair service in Atlanta, GA, like Atlanta Gutter Specialists. You might find that the benefits far outweigh the cost.
---
Advantages of Retaining our Roof Repair Services
At Atlanta Gutter Specialists, we pride ourselves on delivering reliable, high-quality services.
We are not just a service provider; we view ourselves as part of your home maintenance team, fully invested in ensuring the longevity and integrity of your home. We go above and beyond the basic services you might expect, providing a comprehensive package that takes the guesswork and stress out of roof repair.
Beginning with a complete inspection of your roof, we hunt down any signs of potential problems. This is not just a quick walkaround; our team members take the time to thoroughly assess the condition of your roof. We know that small issues can quickly escalate if not addressed promptly, and we're committed to preventing minor concerns from developing into major headaches for you. Once we've identified any existing or potential problems, we put together a detailed plan of action for your review.
Our Comprehensive Roof Repair Process
Every good roofing repair starts with a thorough inspection, and that's precisely what we do at Atlanta Gutter Specialists. This isn't a mere visual once-over. Our trained professionals get up on your roof, get into your attic, and examine all aspects of your roofing system. Our mission is to uncover all existing issues and predict future ones, so your home can weather any storm.
Once the inspection is done, it's time for us to roll up our sleeves and get to work. Using the data gathered from the inspection, we craft a customized plan that not only fixes existing problems but also fortifies your roof against potential future damage. We then execute this plan with precision, aiming to complete the project efficiently and as quickly as possible. Our professionals understand that roof repair can disrupt your daily life, so they work diligently to minimize the impact on your routine.
Understanding Roof Repair Costs
We get it - dealing with roof repair can be nerve-wracking, especially when you're not sure about the costs involved. That's why, at Atlanta Gutter Specialists, we ensure that every dollar you spend is accounted for. Once our experts complete the initial inspection, we provide you with a detailed cost estimate. This isn't just a single number; we break down the costs to make it clear what you're paying for.
We encourage questions and are always available to answer them. Our aim is not to just provide a service, but to build trust and form a lasting relationship with our customers. So whether you have queries about labor costs, material costs, or the cost of potential add-ons, we're here to provide answers.
Boost Your Home's Value: Schedule a Roof Repair Consultation Today
Your home isn't just a place to live; it's an investment. And like any investment, it can appreciate or depreciate in value depending on how well it's maintained. At Atlanta Gutter Specialists, we believe that a well-maintained roof contributes significantly to your home's value. It doesn't just provide shelter; it adds to your home's curb appeal and overall market value.
Schedule a consultation with our professional roof repair team today and learn more about how you can boost your home's value. We can provide insights into how a well-maintained roof can make your property more appealing to potential buyers if you ever decide to sell. Let's work together to make your home the best it can be, both for your family and for your financial future.
---
Dependable Residential Roof Repair Services in Atlanta, GA
Atlanta Gutter Specialists isn't just another company in the business of roof repair; we're your friendly neighbors dedicated to bringing you the highest standard of residential roof repair services in Atlanta, GA. When it comes to the needs of your house, we understand that there's no one-size-fits-all solution. Everyone's needs are unique, and we're all about providing customized, high-quality solutions that cater to those specific requirements.
Our team comprises seasoned professionals who combine their wealth of experience with a deep passion for their craft. They put their heart and soul into every project, ensuring your home's roof and gutters are taken care of with meticulous attention to detail and precision. With our vast expertise, we have honed our skills to diagnose, fix, and prevent a variety of roof-related problems. Our commitment to client satisfaction means we're not just here to provide a service; we're here to provide you peace of mind.
In a place like Atlanta, Georgia, where the weather can be unpredictable, keeping your roof in prime condition is essential to ensure the overall health of your home. We understand that when things go wrong, it can be stressful. That's why Atlanta Gutter Specialists steps in to take that burden off your shoulders. Our local experts are not only familiar with the technical aspects of roof repair but also understand the specific challenges that Atlanta's weather can pose.
Top-Notch Residential Roof Repair: Atlanta, GA's Reliable Solution
Roof repairs might seem daunting, but with the right professional by your side, it doesn't have to be. When you choose Atlanta Gutter Specialists, you're opting for the best in the business - an expert team that's dedicated, reliable, and highly proficient. We're not just any other roof repair contractor; we're a partner you can trust. We take immense pride in our work, and our primary goal is to ensure your satisfaction. From minor fixes to major overhauls, we've got you covered.
Local Expertise, Exceptional Service: The Atlanta Gutter Specialists Difference
What sets us apart from the rest is our local expertise and commitment to delivering exceptional service. Being based in Atlanta, GA, we have an in-depth understanding of the unique challenges that the local climate can present. We use this knowledge to provide a service that's not just effective but also efficient. We're not about quick fixes; we're about providing long-lasting solutions that enhance the durability and longevity of your roof.
---
Types of Roof Repair Projects
When it comes to roof repair services in Atlanta, GA, we understand that homeowners want a company they can rely on for quality, expertise, and dependable service. That's where Atlanta Gutter Specialists comes in. As a local business, we have a solid reputation for providing excellent roof repair services that cater to the unique needs of our clients. Whether you're dealing with a small leak or need an entire roof replacement, we're equipped to handle it all.
Our team of professionals are not just skilled, but also dedicated to delivering top-notch services that meet and exceed our client's expectations. When you choose Atlanta Gutter Specialists for your roofing needs, you're choosing a provider that values customer satisfaction and high-quality service above all else. Our professionals work meticulously to ensure that every roofing project, be it repair or gutter installation, is completed with precision and attention to detail.
Shingle Roof Repair
Shingle roofs are popular in Atlanta, GA, and for good reason. They're durable and can withstand the harsh weather conditions of Georgia. But like anything, they can sustain damage over time. At Atlanta Gutter Specialists, we offer expert shingle roof repair services. We're skilled at identifying problems and delivering the necessary fixes to ensure your shingle roof remains reliable and long-lasting. We work quickly, efficiently, and ensure minimum disruption to your daily life.
Flat Roof Repair
Flat roofs, while not as common as shingle roofs in Atlanta, have their own set of repair needs. Our team of professionals is well-versed in handling these unique requirements. Whether you're dealing with pooling water or cracks, we're equipped with the tools and skills to repair your flat roof and restore its functionality. You can trust our experts to handle your flat roof repair with the utmost care and professionalism.
Metal Roof Repair
Metal roofs are known for their longevity and durability. However, they can sometimes require repairs due to factors such as rust or loose seams. Our Atlanta, GA roof repair service includes comprehensive solutions for metal roof repair. We have professionals experienced in handling metal roof problems, and they are well-equipped to ensure your roof is repaired effectively and efficiently. With our metal roof repair service, you can be assured that your roof is in capable hands.
Tile Roof Repair
Tile roofs are beautiful and can add a unique touch to your Atlanta home. However, they can sometimes require specialized repair due to their unique material and construction. We at Atlanta Gutter Specialists offer expert tile roof repair services that are tailored to address the specific needs of these roofs. We understand the unique challenges that come with tile roof repair, and we have the skills and equipment to tackle them.
Storm Damage Roof Repair
Atlanta, GA is no stranger to storms. These can cause significant damage to your roof, from broken shingles to leaks. Our storm damage roof repair services are designed to address these issues and restore your roof to its pre-storm condition. We respond promptly and work quickly to mitigate any further damage to your home. Trust us to provide you with reliable, efficient storm damage roof repair in Atlanta, GA.
Gutter Repair and Installation
The importance of a well-functioning gutter system cannot be overstated. It's crucial for channeling rainwater away from your home and preventing water damage. We offer professional gutter repair and installation services to ensure that your home's gutter system is in top-notch condition. If you notice signs of gutter damage like sagging or leaks, don't hesitate to call our experts. We'll take care of it so that you can rest easy knowing your home is protected.
CLIENT TESTIMONIAL
I had a great experience with Atlanta Gutter Specialists for a recent roof repair. They were very professional and knowledgeable, and they were able to complete the repair quickly and efficiently. The price was also very reasonable. I highly recommend them!
Frequently Asked Questions about Roof Repair Services
Roof repairs can seem like a complex topic for many homeowners in Atlanta, GA, and it's only natural to have many queries. At Atlanta Gutter Specialists, we believe in keeping you well-informed about our roofing services. We are here to dispel any doubts you might have and make the process as clear as possible. We're not just a company doing business in Georgia; we're your neighbors, and we're committed to simplifying your roof repair journey.
What Is The Average Cost For Roof Repair in Atlanta, GA?
The cost for roof repair can vary widely depending on factors such as the extent of the damage, the type of materials used, and the size of your roof. However, we provide a transparent and detailed quote after an initial inspection to give you a clear understanding of the expected costs.
How Long Does A Roof Repair Typically Take?
The duration of a roof repair depends on various factors such as the scope of the damage, the size of the roof, and the weather conditions. But our team works efficiently to ensure timely completion without compromising on the quality of service.
What Types Of Roof Repair Does Atlanta Gutter Specialists Handle?
Our team is skilled at handling a wide range of roof repairs, from minor leaks to major damages caused by storms or wear and tear. We also offer gutter installation and maintenance services.
What Are The Signs That I Need Roof Repair?
Some common signs that you may need roof repair include leaks, missing or damaged shingles, sagging or cracked gutters, and water spots on your ceilings or walls. If you notice any of these signs, it's best to call a professional for a thorough inspection.
Does Atlanta Gutter Specialists Offer Free Estimates?
Yes, we offer free, no-obligation estimates. We believe in transparency and provide a detailed breakdown of the costs involved in the proposed roof repair work.
Do I Need To Be Home During The Roof Repair Process?
While it's not necessary for you to be home during the process, we are committed to keeping you informed every step of the way and addressing any concerns you may have.
Why Should I Choose A Local Roof Repair Company?
A local company like Atlanta Gutter Specialists understands the unique weather conditions and building regulations in Atlanta, GA. As part of the community, we offer personalized services tailored to meet the specific needs of Atlanta homeowners.
Does Atlanta Gutter Specialists Handle Emergency Roof Repairs?
Yes, we understand that emergencies can happen at any time, and we're ready to assist with urgent roof repair needs in the Atlanta area.
What Sets Atlanta Gutter Specialists Apart From Other Roof Repair Companies?
Our dedication to excellent customer service, high-quality materials, transparent pricing, and a team of skilled professionals sets us apart in the Atlanta roofing industry.
What Are The Benefits Of Regular Roof Maintenance?
Regular roof maintenance can help identify potential problems before they turn into major issues, prolong the lifespan of your roof, and save you from unexpected repair costs down the line.
Reliable Roof Repair Services for Atlanta, GA and Beyond
If you live in Atlanta, GA, or the surrounding areas, and you're in need of a dependable roof repair company, look no further than Atlanta Gutter Specialists. Our services are well-regarded for their reliability, professionalism, and overall quality. As a local company, we know the ins and outs of the Atlanta roofing industry, and we put this expertise to work in order to deliver top-notch results for our clients.
Our commitment to you, our valued customer, is unwavering. We go above and beyond to ensure that our work meets and even surpasses your expectations. Customer satisfaction is at the heart of our operations. We don't consider our job done until we're certain you're happy with the results. This philosophy is not just a slogan; it's a way of doing business that we believe sets us apart from other roofing services in the Atlanta, Georgia area.
Flexible Scheduling for Your Convenience
Life is busy, and we completely understand that. You've got work, family, and a host of other commitments to juggle. That's why we've designed our scheduling system with your convenience in mind. Whether you need us to be there early in the morning or later in the afternoon, we will work around your schedule to make sure your roof repairs or gutter installations are taken care of when it suits you.
Get Acquainted with Our Team: Professionals Committed to Excellence
Our team at Atlanta Gutter Specialists is a group of skilled professionals who are dedicated to providing top-quality service to our clients. Each member of our team brings years of experience, training, and a keen eye for detail to each job. We're not just experts; we're also residents of Atlanta, GA, and we care deeply about helping our neighbors maintain the integrity and value of their homes.
Top-Rated Roof Repair Specialists Near You in Atlanta, GA
Have you been searching for "top-rated roof repair experts near me"? Your search ends with Atlanta Gutter Specialists. We've established ourselves as a leading roof repair company in the Atlanta, Georgia area. Our reputation as a trusted service provider didn't come overnight - it has been earned over years of delivering consistent, high-quality services to homeowners like you.
When it comes to roof repair or gutter installation, we know that quality matters. Our team of professionals uses top-notch materials and state-of-the-art equipment to ensure that every job is done right. We pay attention to every detail, no matter how small, because we know that it's the details that make the difference between a good job and a great one. Reach out to Atlanta Gutter Specialists today, and experience for yourself why we're top-rated roof repair experts in Atlanta, GA.
CLIENT TESTIMONIAL
I had a great experience working with Atlanta Gutter Specialists for my roof repair. The crew was very professional and efficient, and the owner, Bruce, was very easy to work with. They did a great job on the repair, and I appreciated the extra steps they took to protect my property while they were working. I would highly recommend this company for anyone looking for quality roofing services in the Atlanta area.
Why Choose Atlanta Gutter Specialists for Your Roof Repair
When it comes to selecting a company for your roof repair needs in Atlanta, Georgia, there are many options available, but there's a reason why Atlanta Gutter Specialists stands head and shoulders above the rest. Over the years, we've become the trusted choice for numerous Atlanta homeowners, offering premier roof repair and gutter installation services. We've garnered a significant customer base through our hard work, dedication, and unwavering commitment to quality.
Choosing Atlanta Gutter Specialists means selecting a team that truly understands your needs. Every homeowner and home is different, which is why we adapt our services to each individual client. This approach ensures that you receive services that are tailored to your exact needs. Our team of experts treats your home as if it was their own, delivering the high level of care that your property deserves.
We're more than just a roof repair and gutter installation business in Atlanta, GA. We're a team of dedicated professionals who are passionate about preserving the safety and longevity of your home. Whether you're in need of a minor fix or an extensive gutter installation, we're equipped to handle any task that comes our way. It's not just about providing a service, it's about providing peace of mind to homeowners throughout Atlanta. Get in touch with us today, let us shoulder your home's roofing worries and elevate the state of your home to new heights with our exceptional services.
Our Track Record: Proven Expertise in Roof Repair Services
One of the things we pride ourselves on at Atlanta Gutter Specialists is our robust experience and the reputation that has stemmed from it. We have spent years honing our skills and refining our services to provide top-quality roof repair services in Atlanta, Georgia. Our experience allows us to navigate a myriad of issues, from simple repairs to complex replacements. Our reputation, backed by satisfied customers and successful projects, is a testament to our commitment to quality.
Customized Services: Roof Repair Solutions Tailored to Your Needs
At Atlanta Gutter Specialists, we believe that a one-size-fits-all approach doesn't work when it comes to roof repair. Every home is unique, and so are its needs. This is why we strive to provide personalized services to every client, catering to the specific requirements of your home. Our team of experts will conduct a thorough assessment of your roof, understand your concerns, and provide customized solutions that work best for you. Be it a minor repair or a major overhaul, we're equipped to handle it all.
Unmatched Customer Service: Your Satisfaction is Our Priority
One aspect that truly sets Atlanta Gutter Specialists apart from other roof repair companies in Atlanta, GA is our commitment to exceptional customer service. We view our clients as more than just business transactions; we consider them to be part of our extended family. Our team is always on hand to address any questions or concerns you might have, guiding you through each step of the process. We are dedicated to making your roof repair or gutter installation journey as effortless and enjoyable as possible. By entrusting your roofing needs to us, you're choosing a stress-free experience rooted in excellent service and professional expertise.