Atlanta Gutter Cover Installation and Repairs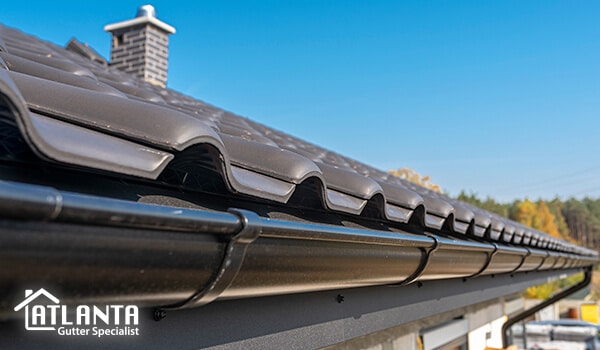 Atlanta Gutter Specialists provides professional gutter cover installation and repair services across the Atlanta metro area. Since we're a full-service gutter company, our specialists can provide you with all of your repairs needs, including gutter cover cleaning and replacement. We'll work with you to get the right color, height, and material for your gutter covers so that they match your roof and house.
What Is a Gutter Cover & Why Do I Need One?
A gutter cover is a device that helps keep your gutters from getting clogged with leaves, needles, and other annoying bits of debris. In real terms (rather than the normal vernacular), it's called a "gutter guard," or more formally, "a gutter grate." This provides a layer of protection to your roof, which minimizes the chances for further damage.
Gutter covers come in a lot of different types and styles. Some are made out of nylon, metal, or plastic so they can withstand the elements better than others. The type you choose will depend on your climate and where you live. If there are any trees or tall bushes near your home in Georgia then gutter protection is recommended!
Types of Gutter Covers
There are different types of gutter covers that can be used depending on the size and amount of rainwater being collected out each time. The most commonly made is a one-sided gutter, in which water only flows from one side (the interior).
Screens:
Screen gutter covers are generally made from metal or plastic and are used in gutters that are collecting rainwater from the roof. This type of gutter guard is used to prevent debris from entering the gutters, which can cause damage to your roof.
Brush:
A brush guard cover can be installed with standard gutter guards using an attachment kit which comes in different colors. It will match the color of your home best, so you'll have a discrete point of difference from others and it looks great!
Micro Mesh:
Micro mesh gutter covers are made from a very fine steel mesh that is virtually invisible and does not obstruct the view of your home. This type of gutter guard can be placed on any existing gutter system, so that it won't affect the appearance of your roof.
Reverse Curve:
Reverse curve gutter covers are made from fiberglass and come in different sizes to fit your specific needs. They are also easy to install onto your existing gutters and are able to withstand harsh weather conditions. These types of gutter covers can be used on both metal and plastic gutters and have a smooth surface for a seamless look when installed.
What to Consider When Choosing Gutter Covers
Compatibility
Not all gutter covers are designed to fit every rain gutters. Because they must be custom-made, their size and style should be the first things that you consider when buying one. If a home has uniquely sized gutters, it is best to work with an entire manufacturer who can make a gutter cover solution tailored specifically for your needs.
Material
You'll want to decide whether or not you want metal gutters or plastic gutter covers. While metal is more durable and lasts longer than plastic but it's also heavier and more expensive. Plastic gutters are cheaper but they can crack or break over time which makes them a poor choice for long-term use.
Durability
Next, you will need to consider the durability of your gutter cover. A high-quality metal or plastic gutter cover will last many years if it is installed correctly and maintained properly. Cheap, ineffective metal or plastic guards can fall apart over time due to their poor construction and materials used in the manufacture of that product.
Professional vs. DIY Installation
A professional gutter cover installer will take into consideration everything they need to know in order to install the best possible gutters for your home. They'll come with a checklist of important information that you should ask before hiring them, including what kind of materials and equipment they use, how long it will take for installation, if any additional work needs done on your property during or after the process is complete and what their experience level is. Also many high-quality covers require professional installation either because the manufacturer requires it for the warranty or because installation is actually quite difficult.
Cost
Before you get started, consider how much money you want to spend on your gutter cover system. Metal or plastic covers can cost hundreds and even thousands of dollars. Most companies offer low-cost options that are still effective and durable enough for your home. Call Atlanta Gutter Specialists to learn more about our available options.
Advantages of Gutter Covers
The gutter cover is an effective way to protect your roof, prevent leaks and keep your gutters clear of leaves and debris. Gutter covers also keep your gutters free of mold and mildew, which can cause damage to your roof. This can be very costly if you are not careful about how you maintain the gutters on your home. When it comes to maintaining a good working system, many homeowners choose a gutter guard over a gutter cover because they are much easier to install.
Easier Cleaning
Snow and Weather Protection
Prevents Moisture Damage
Helps Control Pests
Gutter covers are a worthwhile investment that will keep your gutters protected from rainwater and leaves and help prevent damage to the roof.
Gutter Cover Services
Atlanta Gutter Specialists is committed to providing you with the highest quality gutter cover services. We are ready to provide these services in Atlanta and surrounding areas at an affordable price. Our team can provide you with everything you need to have your gutter covers installed correctly, so don't hesitate to contact us today!
Gutter Cover Installation
Gutter covers are a great way to keep your gutters clean and free of debris. If you have an existing home or if you're building a new house, we can install gutter covers for you in Atlanta, GA. We'll work with you to get the right color, height and material for your gutter cover so that they match your roof and house. We also offer installation services in Atlanta (and other areas) as well as Georgia!
Gutter Cover Repair
If your gutter covers are in need of repair, let us know. We offer a variety of repairs and replacement materials for our customers to choose from when they want the best possible outcome for their home. From rotten wood or rusted metal, to missing brackets and fasteners - we can repair them with new high-quality covers that will last longer than ever before!
Maintenance of Gutter Covers
We offer our customers an easy way to maintain their gutter covers. In addition to our repair and replacement services, we also offer gutter cleaning services in Atlanta, GA. We'll come out to your home and clean your gutters in order to remove any debris or small objects that may have been left behind by the rain. This will ensure that your gutters are clean and free of bugs or other pests!
Cleaning Gutter Covers
Want the best professional gutter cleaning service in Atlanta, GA? You've come to the right place! At Atlanta Gutter Specialists, we offer the best results when it comes to all of your gutter cover cleaning needs.
Your gutters are important for your home's structural integrity and need to be maintained properly if you want them to last for years! If you have heavy rainfall and your gutter covers are in need of cleaning, let us know. We'll come out to your home and clean your gutters covers so that they look like new!
Gutter Cover Replacement
We also offer gutter cover replacement in Atlanta. We can replace your old gutters and gutter covers to improve your home's overall appearance. This can be especially helpful if you have a new home with a modern design or if you are going through a renovation project on your home.
Custom made and designed to fit your home, our gutter covers are an affordable option for protecting your gutters. Our technicians will come out a few days after the order is placed to install them on your roof, ensuring they won't let anything fall through when it rains again.
Common Gutter Cover Questions
What is a gutter cover?
Gutter covers are designed to keep debris, rainwater, and clogs from falling into your gutters. They prevent blockages that can cause your gutter system to malfunction or flow poorly. A gutter cover is made of a durable material like vinyl or plastic and sits in the gutter without touching the roofing surface.
How do I know if I need my gutters covered?
Rain gutters need to be clear for water to flow properly, as they are a common way of protecting homes from water damage. Gutter covers can provide protection in the case of rain by keeping your home dry and preventing leaks during any time of the year.
If you're building a new home or planning to renovate your current one, consider adding gutter covers. Gutter covers should be installed as soon as your home is finished so that they can protect your gutters from debris and debris-caused clogs. If you're looking for gutter covers for your home or business in Atlanta, GA, call us today!
Do gutter covers work in heavy rain?
Yes! While gutter covers work in any weather, they're actually more effective in heavy rain. The water that falls on your roof is diverted away from your home via the gutter system.
How often should you clean gutters with covers?
We would recommend cleaning them at least once a year for maximum efficiency. Cleaning it periodically will help keep it in good shape and make sure it doesn't get too clogged up with debris.
However, it's highly recommended to call an expert if you're not sure how often they should be cleaned.
How much do gutter covers cost?
The cost of gutter guard installation can vary significantly, depending on the type of gutter guard used, size of the house and the difficulty of the install. This is why we provide a quote upfront before any work is started.
How long do gutter covers last?
Gutter covers are meant to last for a number of years if installed correctly. However, they will wear out over time and need to be replaced sooner or later when there is not much left in them. To determine whether it's the right moment you should talk with your professional gutter installer who can assess whether or not your gutters still have enough life left in them before they need replacing.
How long will it take to install gutter covers?
Gutter cover installation can take anywhere from 1 hour to 6 hours. While the average time required for this service is 3-4 hours, it will depend upon the size of your house and the type of covers being installed.
What are the benefits of gutter covers?
Helps keep debris, such as leaves and dirt, from clogging your rain gutters and downspouts.
Stops rainwater from entering your home's foundation and causing damage to the exterior of your house, attic flooring, and interior.
Prevents water damage to your roof, exterior walls, and interior of your home.
What is the difference between a gutter cover and a gutter guard?
Gutter covers are designed to sit inside of your gutter without touching the roof, while gutter guards are designed to sit on top of your attic window and prevent debris from entering.
If you're looking for something that's both aesthetically pleasing and effective at the same time, then a gutter cover is the way to go.
Why Hire Atlanta Gutter Specialists for Gutter Cover Installation?
As the name implies, our specialists are trained to install gutters. Our team has years of experience in installing gutter covers and knows how important it is for your home or business to have a functioning system that will keep water from flooding onto your property during heavy rainstorms. We offer different types of designs such as round, square, or rectangular shaped coverage and can also help you decide on the right size through measuring process before installation takes place!
Don't take chances with your gutters covers by not having them professionally installed by a reliable company such as Atlanta Gutter Specialists. Contact us today for Gutter Cover Installation in Atlanta, GA!