Upgrade Your Atlanta Home with Professional Home Improvement Services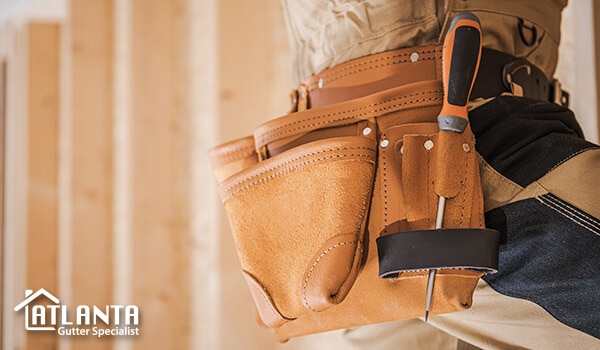 As a homeowner in bustling Atlanta, GA, your home serves as an investment and a reflection of your personal style that demands steady care and improvements to preserve its charm and functionality. You may ask, "Why should I invest in professional home improvement?" The answer is simple: maintaining and enhancing your home preserves its value, its safety, and your quality of life within it. This is where we, Atlanta Gutter Specialists, step in as your reliable home improvement service providers.
We're a trusted professional home improvement provider, celebrated far and wide for our exceptional attention to detail and an unwavering commitment to delivering unmatched quality. As we work our magic, you'll watch your home transform, becoming even more beautiful, safe, and efficient than before.
Navigating the world of home improvement in Atlanta, GA, can be challenging, and that's exactly why you need a dependable ally like Atlanta Gutter Specialists by your side. With us, you don't just get a contractor; you gain a dedicated team of experts who genuinely care about making your home the very best it can be. From minor fixes to major renovations, we bring the same level of commitment and expertise to every task, ensuring you feel completely at ease entrusting your home to us. Remember, maintaining and enhancing your home is not an expense; it's an investment in your future, your safety, and your happiness.
CLIENT TESTIMONIAL
I am thrilled with the service provided by Atlanta Gutter Specialist. They came to our home in Roswell for gutter repair, and the results are outstanding. I no longer worry about water damage, thanks to their exceptional work. The owner, Mr. Mills, is a true professional, and the crew was efficient and tidy. I'm one happy customer!
Job Type:
Home Improvement
Are You Concerned About Your Home's Improvement Needs?
Dwelling in the vibrant city of Atlanta, is your home reaching its full potential? Is it mirroring your ambitions of a safe, comfortable, and stylish living space? Recognizing when your home requires professional intervention can be a daunting task. Together, let's delve into the signs that might signal a need for professional improvement services for your Atlanta home.
What are the Signs That Your Home Needs Professional Improvement Services?
Signs that your home requires professional attention can range from the glaringly obvious to the subtly unnoticed. Peeling paint, worn-out flooring, or a leaking roof are telltale signs that your home is screaming out for a professional touch. On the other hand, an unexpected rise in energy bills or irregular heating and cooling could indicate less conspicuous issues. Even when everything seems to be in perfect order, it's beneficial to arrange periodic inspections by a professional team. This proactive approach can unearth potential issues that may go overlooked, saving you future stress, time, and money.
How to Assess the Maintenance Needs of Your Home
Professional home improvement transcends just fixing visible damage; it's a comprehensive approach that includes preventive measures and keeping your living space updated. Regular assessments by home improvement professionals like the team at Atlanta Gutter Specialists can identify hidden problems and suggest enhancements that can elevate your home's value and your living experience.
Why Regular Home Improvements Are Essential for Your Atlanta Residence?
Regular home improvements hold benefits that go beyond maintaining the visual appeal of your home. It's a multifaceted process aiming at safety, efficiency, and comfort. Routine enhancements can discover underlying issues, mitigate the need for major repairs in the future, boost energy efficiency, and increase your home's resale value. Thus, for residents of Atlanta, GA, regular home improvements are not a luxury but a necessity.
What Are the Advantages of Hiring a Professional Home Improvement Contractor?
Choosing a professional home improvement contractor offers numerous advantages. They bring in-depth knowledge, a wealth of experience, and specialized tools that are typically beyond the reach of a DIY enthusiast. Professionals can identify problems that may go unnoticed to the untrained eye, recommend suitable solutions, and implement them efficiently. They ensure quality workmanship that adheres to local building codes, making your home improvement project a hassle-free experience. Ultimately, a professional contractor like Atlanta Gutter Specialists can transform your home improvement aspirations into reality while maintaining industry standards and maximizing your home's potential.
---
What Does a Home Improvement Service Include?
Home improvement is a broad term that encompasses an array of services aimed at boosting your home's functionality, safety, and visual appeal. It's not merely about altering the physical aspects of your home but also about transforming the experience of living within it. A professional home improvement service brings this transformative change. You might be wondering, what exactly does this entail?
Professional home improvement services take a holistic approach towards enhancing your Atlanta home. They understand that a house is not just an assemblage of bricks and mortar but a space where you and your family build memories. So, their focus remains on amplifying your home's aesthetic appeal while ensuring it remains a safe and functional space for you and your loved ones.
Home Improvement: Creating a Clean and Healthy Living Space
A healthy home goes beyond mere cleanliness. It's about ensuring adequate ventilation, optimizing natural light, averting moisture accumulation, and fostering superior indoor air quality. All these factors collectively contribute to a healthier, more comfortable living environment. Professional home improvement services can enhance these aspects with various interventions, such as window replacements, insulation enhancements, roof repairs, or installing new gutters. The result? Your Atlanta home becomes a safe haven promoting the well-being of all its inhabitants.
How Often Should You Schedule Home Cleaning Services?
The frequency of requiring professional home improvement services largely depends on the age, location, and usage of your home. An annual or biannual inspection by a professional service provider can help maintain your home in its peak condition, prolonging its lifespan and saving you significant costs in the long run. However, the presence of any noticeable issues or significant changes to your home (such as an extension) should trigger immediate consultation with a home improvement professional.
Why Choose a Professional Home Improvement Company?
When you entrust your home improvement needs to a professional service provider, you're ensuring the work is executed with precision and excellence. It not only saves you precious time but also mitigates the risk of expensive errors. Professional home improvement companies bring their vast knowledge, substantial experience, and advanced tools to the table, efficiently tackling complex tasks with accuracy. The risk of overlooking issues or making mistakes is significantly reduced, ensuring your Atlanta home stays in its prime condition for longer.
---
Benefits of Hiring a Georgia Home Improvement Company
When it comes to home improvements, choosing a local service provider like Atlanta Gutter Specialists packs a punch of benefits. Being based in Atlanta, we possess an in-depth understanding of the local construction codes and guidelines that govern residential properties. But our edge goes beyond mere compliance. We comprehend the unique nuances that come with maintaining a home in the vibrant city of Atlanta. From our firsthand knowledge of the local climate's impact on home infrastructure to our familiarity with regional aesthetic preferences, we've got your local needs covered.
Further, we understand that entrusting someone with your home, a deeply personal and prized possession, can be daunting. This is why we, as a locally based home improvement contractor in Atlanta, are accessible for face-to-face discussions, site inspections, and follow-ups. Having a local point of contact eliminates the typical communication and logistics issues that may arise when dealing with a remote or national company.
How to Choose the Perfect Home Contractor for Your Unique Needs?
Choosing a home contractor is no small feat, given the sea of options out there. A few factors, however, can guide you to the right choice. Firstly, gauge their experience level and reputation. A reliable home improvement professional, such as Atlanta Gutter Specialists, will be more than willing to provide references and showcase the quality of their past work. Secondly, discuss your needs in detail and ensure they offer the services you need. Do they specialize in the type of project you are undertaking? Is their service package comprehensive?
Above all, ensure that your home contractor is a stellar communicator. You need someone who will keep you looped in throughout the improvement process, valuing your input and addressing your concerns promptly.
What Differentiates Atlanta Gutter Specialists in the Atlanta, GA Home Improvement Scene?
Atlanta Gutter Specialists is not just another name in the home improvement industry in Atlanta. Our core differentiators lie in our unyielding commitment to superior quality, impeccable customer service, and transparent pricing. We offer an extensive suite of services to cater to your varied needs - from gutter installations to comprehensive home overhauls. Moreover, our team of trained professionals is well-versed in the unique requirements of Atlanta homes, bringing a localized touch to our service delivery.
Avoid DIY Disasters: Let the Experts Handle Your Home Improvement Project
While DIY home projects may seem exciting, they can often turn into a complicated, time-consuming ordeal without the right expertise and tools. Entrusting your home improvement project to seasoned professionals like Atlanta Gutter Specialists can spare you the common DIY blunders and potential damages. We ensure that the job is done right the first time around, saving you precious time and resources. With our experts at your service, you can sit back and watch your home transform effortlessly.
---
Advantages of Retaining our Home Improvement Services
In the dynamic landscape of Atlanta's home improvement industry, it can be challenging to find a service that you can trust and truly depend on. This is where Atlanta Gutter Specialists come into the picture. We're more than just another home improvement company in Atlanta, GA; we are your partners in transforming your house into the best version of itself. Our mission is not simply to satisfy but to exceed your expectations with our reliable and superior quality home improvement solutions, tailored meticulously to cater to your unique needs and personal style.
Located in the heart of Atlanta, we understand the diverse home improvement needs of the community. This insight allows us to not just provide a service, but to connect with our clients on a more personal level, ensuring that their individual needs are met. With Atlanta Gutter Specialists, you're not just a client, but a part of our growing family in Georgia.
How Our Home Improvement Process Ensures Your Satisfaction?
Our method is straightforward, yet effective: we listen to your needs, devise a tailored plan, and execute it with precision. We begin by thoroughly understanding your vision for your home and your unique requirements. We then transform these insights into actionable plans that are specifically designed for your Atlanta home. Finally, we bring this plan to life, ensuring every detail aligns with the highest professional standards we uphold.
Taking your dream and turning it into reality is our primary goal. We are driven by our commitment to creating a home that speaks volumes about your taste while offering practical, effective improvements that elevate the living experience.
How Do We Ensure Transparency and Fairness in Home Improvement Costs?
Atlanta Gutter Specialists believe in delivering value – both in the quality of work and in the transparency of our pricing. We ensure that every dollar you invest is spent wisely by providing a clear, detailed quote that outlines all costs involved. Our professionals are available for any discussions, should you have questions or concerns. We strive for transparency and fairness because we value your trust and satisfaction above all else.
How Scheduling a Home Improvement Consultation Today Can Elevate Your Home's Value?
Engaging in home improvements today is a strategic investment for the future. It not only elevates the aesthetic appeal of your home but also increases its market value, making it a smart move for homeowners in Atlanta, GA. Booking a consultation with Atlanta Gutter Specialists could be the first step towards a more comfortable, safer, and valuable home.
With us, you're not merely improving your home; you're investing in a brighter, more secure future. Let us be your guides on this journey, providing professional advice and top-tier home improvement services that truly make a difference.
---
Experiencing Quality Home Improvement Services in Atlanta, GA
Here in Atlanta, the home improvement industry is thriving, with numerous businesses claiming to be the 'best in the field'. Amid this clamor, how do you identify a service that truly stands out? Allow us to simplify your quest. Atlanta Gutter Specialists is synonymous with quality home improvement services in the region. Our team is a perfect blend of expert professionals whose technical prowess is matched only by their unwavering commitment to provide exceptional customer service. We pride ourselves on delivering outcomes that don't just satisfy, but indeed, go beyond what you envisage.
Our services are not limited to mere gutter installation; we offer comprehensive home renovations and improvements. The range and breadth of our services have been carefully curated to cater to the diverse needs of Atlanta homeowners. With each project, we ensure meticulous attention to detail. Our professionalism is evident in every hammer stroke, every paintbrush swipe, and every tile placement. We leave no stone unturned in our quest to improve the beauty and functionality of your home.
In an industry that's inundated with competition, Atlanta Gutter Specialists has carved out a unique identity through consistent delivery of superior home improvement solutions. Our reputation has been built on a foundation of trust, commitment, and unparalleled quality. As your local home improvement service provider in Atlanta, GA, we don't just aim to meet your expectations - we strive to surpass them. We believe that every homeowner deserves to live in a home that's not just structurally sound, but also aesthetically pleasing, and we're here to help you achieve just that.
---
What Are the Different Types of Home Improvement Projects We Handle?
Atlanta Gutter Specialists, your go-to home improvement service in Atlanta, GA, proudly caters to an extensive assortment of home improvement endeavors. Our work scope ranges from functional upgrades such as gutter installations to aesthetic enhancements like kitchen renovations. We understand that each home, like its homeowner, has unique needs and a distinct personality. Our professional team, led by Bruce Mills, is trained and prepared to translate your vision into a reality, all while respecting your budget and timelines.
With every project we undertake, we strive to elevate your home's aesthetics and functionality. Be it sprucing up the exterior with new windows or enhancing comfort with improved insulation, our focus always remains on creating spaces that you would love to live in. We are equipped with the requisite skills, resources, and experience to transform your house into the dream home you've always desired.
Gutters are often an overlooked component of a home, but they play a crucial role in directing rainwater away from your property, protecting its structural integrity. At Atlanta Gutter Specialists, we provide professional gutter installation services, ensuring your home can effectively combat Georgia's heavy rains. Our experts will guide you through the process, helping you choose the right type of gutters for your home and installing them with precision.
Window Replacements
Windows contribute significantly to your home's curb appeal, energy efficiency, and overall comfort. Our window replacement services in Atlanta, GA, are aimed at upgrading your home's look while reducing energy costs. With a variety of styles and materials to choose from, we'll help you find the perfect windows that align with your home's architecture and your personal style.
Kitchen Renovations
The kitchen is often the heart of a home, a place where meals and memories are made. Our kitchen renovation services transform your cooking area into a space that is functional, stylish, and welcoming. Whether you wish for a modern, minimalist kitchen or a classic, rustic space, our team will bring your vision to life, ensuring the final result enhances your home's value and your culinary experience.
Home Insulation Upgrades
Proper insulation can significantly impact your home's energy efficiency and comfort. Our insulation upgrade services aim to create a comfortable living environment in your Atlanta home, regardless of the weather outside. With our expert guidance and professional installation, you'll notice a significant decrease in your energy bills and a marked improvement in your home's temperature regulation.
CLIENT TESTIMONIAL
I recently had Atlanta Gutter come out to my home to install new gutters, and I couldn't be happier with the results. The team was prompt, professional, and knowledgeable, and they were able to complete the job quickly and efficiently. The new gutters look great, and they've already helped to prevent water damage to my home. I would definitely recommend Atlanta Gutter to anyone in the Atlanta area who needs gutter installation or maintenance.
Job Type:
Home Improvement
Frequently Asked Questions about Home Improvement Services
As a homeowner in Atlanta, we understand that you might have various questions about home improvement. Whether you're wondering about the lifespan of your gutters or seeking ways to make your home more energy-efficient, these queries are a sign of your dedication towards preserving and enhancing your property. Atlanta Gutter Specialists are here not only to address your concerns but also to provide optimal solutions tailored to your unique needs and budget.
What Kind of Home Improvement Services Does Atlanta Gutter Specialists Provide?
We offer a comprehensive suite of home improvement services designed to address the diverse needs of your Atlanta home. From gutter installation and repair to creating energy-efficient solutions, our experts cover all aspects of home improvement.
How Often Should Gutters Be Replaced?
The lifespan of gutters largely depends on the material used and the maintenance provided. Typically, galvanized steel or aluminum gutters last around 20 years, while copper gutters can last up to 50 years. Regular maintenance can extend the lifespan of your gutters.
How Can I Make My Home More Energy-Efficient?
Energy efficiency can be improved through several measures like installing energy-efficient appliances, sealing any air leaks, improving insulation, using energy-saving light bulbs, and installing energy-efficient windows.
Why Should I Choose Professional Home Improvement Services?
Professional home improvement services bring expertise, experience, and the right tools to the table. They can assess your home's unique needs, suggest the best solutions, and execute improvement tasks to the highest standards.
How Can Home Improvements Enhance My Property Value?
Well-executed home improvements can significantly boost your property value. Improvements like modernizing your kitchen, upgrading your bathroom, enhancing curb appeal, or installing new gutters can add value to your home.
Do You Provide Customized Home Improvement Solutions?
Yes, we pride ourselves on providing tailored solutions that meet the unique needs of your home. Our team will assess your home and devise a bespoke home improvement plan.
What Is the Best Time to Undertake Home Improvement Projects?
While home improvements can be made at any time, spring and summer are often preferred due to the favorable weather conditions. However, our professionals can work efficiently regardless of the season.
How Long Do Home Improvement Projects Usually Take?
The duration of a home improvement project depends on its complexity and scope. We ensure to provide a timeline estimate before commencing any project.
Are Your Home Improvement Services Affordable?
We aim to provide high-quality home improvement services that are affordable and provide excellent value for money. Our team will work with you to find solutions that fit within your budget.
Can You Handle Emergency Home Repairs?
Yes, we can. We understand that some home issues need immediate attention. Our team is prepared to handle emergency repairs to prevent further damage to your home.
---
Our Home Improvement Team Serves the Atlanta, GA and Surrounding Areas
As homeowners in the vibrant heart of Georgia, finding a local and dependable home improvement service that understands the unique charm of Atlanta homes is crucial. This is where Atlanta Gutter Specialists, a name that resonates with top-quality home improvement services, comes in. We're not just another company; we're your neighbors, familiar with the area, and equipped with years of experience to transform your house into the home of your dreams. We cordially invite you to explore our commitment to quality, customer satisfaction, and local expertise.
How Our Flexible Scheduling Options Cater to Your Convenience?
We recognize the value of your time in the fast-paced world of Atlanta, GA. Our approach is centered around your convenience, offering flexible scheduling options that adapt to your busy lifestyle. Whether it's an early morning appointment, a weekend rendezvous, or a late-evening session, our team stands ready to provide our expertise at a time that's most convenient for you.
Meet Our Trusted Professionals: Committed to Excellence
At Atlanta Gutter Specialists, we are a crew of dedicated professionals, each bringing a unique set of skills, years of experience, and an unparalleled attention to detail to every project. We pride ourselves on delivering excellence at every stage of the home improvement process, treating your home as if it were our own, with respect, care, and an eye for aesthetic and functional enhancement.
How Does Atlanta Gutter Specialists' 100% Satisfaction Guarantee Ensure Your Peace of Mind?
Your satisfaction isn't just our goal; it's the benchmark of our success. Our confidence in our service delivery is backed by our 100% satisfaction guarantee. If any aspect of our work doesn't meet your expectations, we pledge to make it right. This commitment underscores our relentless pursuit of excellence, and it's one more way we differentiate ourselves as a premier home improvement service in Atlanta, GA.
CLIENT TESTIMONIAL
I must say, I had a wonderful experience with Atlanta Gutter Specialists. The anonymous team that handled our gutter repairs was courteous and skillful. I can already feel the difference during heavy rains, and my home is well-protected from water damage. A reliable company with great service. Thank you!
Job Type:
Home Improvement
Why Choose Atlanta Gutter Specialists for Home Improvement
Your home, nestled in the vibrant city of Atlanta, GA, is more than just bricks and mortar; it's a considerable investment that deserves nothing short of the best. At Atlanta Gutter Specialists, we echo this sentiment and reflect it through our comprehensive suite of home improvement services. Designed with you and your home in mind, our services aim to keep your home in Atlanta at its prime, enhancing its value, amplifying comfort, and ensuring safety. But why should you entrust us with your home? That's because we bring the highest degree of professionalism, and expertise to every project we undertake.
Our services aren't about making quick fixes or applying a one-size-fits-all approach. It's about thoroughly understanding your home's unique needs, devising a customized plan of action, and diligently executing it to transform your home. The result? A home that doesn't just look great but feels great. So, don't just stand by and imagine a better home. Contact Atlanta Gutter Specialists today, and let's embark on the journey towards transforming your home.
Expertise in Home Improvement Services
At Atlanta Gutter Specialists, we pride ourselves on our vast expertise in the realm of home improvement services. With years of experience under our belts and a passion for what we do, our team of dedicated professionals brings a wealth of knowledge and skill to every project we undertake. We remain abreast of the latest industry trends and techniques, ensuring we're offering you the most innovative and effective home improvement solutions.
Moreover, our expertise isn't just confined to the theoretical aspect. It's hands-on, practical, and tested. Our professionals have honed their skills on the job, ensuring that every task they perform is done with an expert's touch. Whether it's enhancing your home's aesthetic appeal or bolstering its structural integrity, our expertise in home improvement services is your ticket to an improved, enhanced home in Atlanta, GA.
Customized Solutions for Your Home's Unique Needs
We understand that every home is unique and requires a different approach when it comes to improvement. That's why we offer customized home improvement solutions tailored to your home's specific needs. Our team of professionals spends time understanding the requirements of your home, and then creates a bespoke improvement plan that addresses those needs effectively and efficiently.
At Atlanta Gutter Specialists, we're not about standard templates or general fixes. We're about devising strategies that fit your home like a glove, ensuring optimal results. With our customized solutions, you can rest assured that every aspect of your home is catered to, promising a home improvement service that truly makes a difference.
Exceptional Customer Service
Customer service is at the heart of everything we do at Atlanta Gutter Specialists. Our team of dedicated professionals works tirelessly to provide you with an exceptional customer experience. We strive to make your home improvement journey as smooth and stress-free as possible. From the moment you get in touch with us to the completion of your project, we ensure a seamless, enjoyable experience.
Furthermore, our commitment to customer service extends beyond just delivering a project. We're here to guide you, advise you, and provide you with the support you need, even after we've finished working on your home. With Atlanta Gutter Specialists, you're not just getting a service provider; you're getting a long-term partner committed to your home's excellence.