Gutter Screen Installation and Repair in Atlanta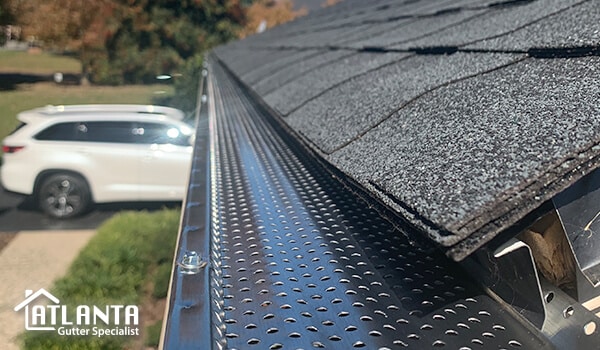 Gutter screens are an easy way to ensure your gutters never fill up and become damaged. We offer gutter screens that can be installed by our team of professionals without having to take any other parts off the roof such as vents, pipes, tiles and so forth.
A gutter screen will help prevent water damage to your home, as well as prevent leaves and debris from getting into your gutters. It will also reduce the risk of damage to your roof.
Installing a gutter screen is also a great way to increase the value of your home. It can add thousands of dollars in value! If you have any questions about our gutter screens or would like more information on how they can benefit your home, please contact us today!
Signs You May Need to Repair or Replace Your Gutter Screens
Fortunately, there are a few signs that can help you determine when it's time to repair or replace your gutters screens.
The most noticeable sign is the accumulation of leaves, twigs and other debris. The materials at the bottom can indicate a leak or that your gutter screens are not capturing all rain water runoff from your roof.
Your gutters should be able to handle the flow of water from your roof. The integrity of your roof and the health of your gutters can affect your landscaping and the structural integrity of your home. If water is pooling or flowing over the sides of your gutters, you may have some issues that require repair or replacement.
Atlanta Gutter Specialists is a gutter screen repair and replacement company in Atlanta, GA. If you would like to learn more about the signs that it may be time for your gutters screens, please contact us today! Call 1-877-516-3008.
What to Consider When Selecting Gutter Screens?
When choosing a gutter screen to permanently place on the roof of your home, homeowners need to consider where you live and what type of weather exposure there is. Gutter screens are typically made from metal or plastic, depending on these factors will determine which material would be best for your needs. If you live in an area that gets exposed to some harsh conditions such as rainstorms and salt water then a metal gutter screen may be more suitable than one made out of plastic because it won't corrode with time like its counterpart would.
What is a Gutter Screen?
There are many types of screens that you can use to keep your gutters clear. A gutter screen is a mesh sleeve with a flexible, metal frame positioned over the downspouts; it prevents leaves and other debris from clogging up your rain gutter system.
Gutters are designed to divert rainwater away from your home, and they can be constructed of metal or plastic. You should regularly inspect them for any signs of leaks. Make sure the downspouts are not clogged with leaves during heavy rains, as this can cause water to flow into your gutters and enter your basement through cracks in the foundation walls.he drainage system while also catching water during rainfall.
Importance of Gutter Screens in Atlanta, GA
Gutter screens are a low-cost way to protect your home from water damage and roof damage caused by storms. They also prevent leaves, sticks and twigs, as well as debris such as leaves from clogging up gutters. The important thing with gutter screens is the quality of the ones you buy - wind can often destroy them over time which can result in more expensive repairs down the road.
Items to Consider When Choosing a Gutter Screen Company
Price: You will generally get what you pay for when it comes to gutter screens. The cost of installation will vary depending on your home and will generally be higher for larger or more complex jobs.
Aesthetics: Like with most home improvement projects, you'll want to choose a contractor based on aesthetics as well as price. You'll also want to consider the impact of the job on your lifestyle.
Local Gutter Screen Services
If you live in the Atlanta area and your gutters need to be repaired or replaced, we will help you select the right gutter screens for your home, as well as help you design a budget-friendly project.
Atlanta Gutter Specialists knows how important it is to get your gutters cleaned out after a storm, so our crews are available to clean your gutters at a time that is most convenient for you.
Gutter Screen Installation
We offer the best gutter screen service company in Atlanta, GA, providing the highest quality products and services at reasonable prices. Gutter screens are becoming a popular option for homeowners to prevent damage, keep out debris and leaves, reduce water pressure and save energy costs when compared with traditional gutters.
Gutter Screen Repairs in Atlanta
Sometimes screens are a little too hard to take care of. If that is the case, come and have our experienced gutter repair technicians help you out! Also, while we do offer upfront pricing estimates and honest workmanship for their services at affordable rates - it's up to you what type of service plan you'd like. We'll be sure to provide quality gutter screen repairs for your home or business!
Affordable Gutter Screen Replacement
If you are looking for affordable gutter screen replacement work, our company can provide it. Atlanta Gutter Specialists offers a variety of gutter screen replacement services to make sure you get the best quality product at the best price. We are dedicated to providing you with the best gutter screen replacement services and products. Our team of trained professionals can handle all of your gutter screen replacement needs.
Gutter Screens Maintenance
Once your gutter screens are installed, you will want make sure to hire a professional company to provide maintenance services on a regular basis for the screens.
Gutter screens are typically installed to protect the home from unwanted debris and water. When your gutter screens have been properly maintained, rainwater can run freely through them without causing any damage. Atlanta Gutter Specialists will make sure that your gutters are cleaned regularly, and that you are not allowing any debris to fall into the gutter.
Atlanta Gutter Screen Cleaning Service
Gutter screen cleaning services from Atlanta Gutter Specialists prides itself on providing personal service and a customized approach to gutter cleaning. Our professional team of trained technicians offers unparalleled customer support, ensuring that the job is done properly every time. We focus on providing the best quality gutter cleaning services in the Atlanta area for a reasonable price.
A professional company like ours can help you with any kind of gutter cleaning service you need. Plus we have been in the Atlanta gutter screen cleaning business for years and are known for the quality of our work.
Types of Gutter Screens
The most popular types of gutter screens are the accordion style, bucket-style, and ladder screen. Each has different benefits and uses.
Accordion
The accordion style of gutter screen is a more popular choice because it's lightweight, easy to install and maintain. It requires less space for installation than the other types, generally sits about rooftop level or lower depending on the width desired.
Bucket
The bucket-style screens are typically used if your roof has limited height but still needs a good sized extension from ground level in order to comfortably fit them underneath without hitting anything inside such as rafters or structural beams that might impede their movement during use; these also tend to be heavier than ladder models so they're not recommended for people with lightweight roofs who need something easier installed and maintained.
Ladder
Finally, ladder styles can create some interesting shapes where one side extends higher up into an attic which makes a nice area for storage while taking up minimal additional room outside of what would normally be available due to their unique design features alone - this type tends have larger footprints when compared against both the other models making them harder (but not impossible) find places within homes that will accommodate its size requirements.
Gutter Screens FAQs
Gutter Screens are a type of screen protector that is designed to cover the edges and keep grime out. They work well for any window, but they tend to be most beneficial when you need protection from water or sunlight. Gutter Screens come in many different sizes as well so there's no need to worry about fitting your window perfectly - just order the size you need!
How often should your gutter screens be cleaned?
Gutter Screen should be cleaned twice a year depending on the amount of debris in your gutters. They can also be washed using soap and water regularly to keep them clean as needed.
Why have a professional service my gutter screens?
Because maintaining your gutter screens will ensure that they are able to keep out rain and debris while also collecting water in the gutters. With a professional service, you'll have the peace of mind knowing that we're looking after your gutters so all you need worry about is relaxing with loved ones instead.
What does a gutter screen repair cost?
It all depends on the size of repair and how much work needs to be done to repair the gutter screen. We can help you determine your cost ahead of time so that there aren't any surprises when it comes time for a gutter screen installation or replacement project.
Are new replacement gutter screens expensive?
It all depends on the type of gutter screen that you need. If you have a standard size, vinyl gutter screen or just want to make sure your gutters are properly protected and functioning as they should be then replacement screens can range from $10-$20 each depending how many there are in total. Please keep in mind, each job is a bit different, so please call for an accurate quote.
How do I clean my own gutter screens?
Gutter screens are difficult to remove and require the same amount of care as a window screen. It is best that they not be removed by anyone other than a professional gutter service expert, but if this is absolutely necessary, it should be done carefully so you don't damage your gutter screen system in the process. Atlanta Gutter Specialists will be able to remove the screens and clean them with a soft brush and water, then let them dry completely before replacing them.
How to I fix gutter screens on my house?
You should contact a professional in order to get your gutter screens fixed on your house. The best way to do this is by hiring an experienced professional, who will have the skills and knowledge necessary to provide you with a solution that suits your needs.
What is included in your gutter screen service?
That depends on what services you need. The gutter screen cleaning service includes the removal of vegetation, debris and other obstructions from your gutters and downspouts. If your screens are damaged, then Atlanta Gutter Specialists will attempt to fix the screens or replace them with new ones so your gutters are operating properly.
How do I know if my gutter screens are clogged?
When your rain gutter screens are clogged, it can cause roof leaks. There is a potential for water to enter the home or have an impact on other surfaces such as the foundation and walls. If you notice water in your basement or musty smell, it's time to check the gutter screens and see what they need to be replaced.
How do I know if my gutter screens are damaged?
There are many ways to tell if your gutter screens are damaged. One way would be looking at the screen itself, as damage may show up in a number of places.
- Scratches or spots on the screen could indicate it is broken and needs replacing
- Mold growth around holes in gutters can lead to rotting wood
- Holes in the screen or tears in the mesh fabric.
If you see any of these problems, call us today and we'll come out to assess your gutter screens!
Can you avoid cleaning your gutter screens?
The answer is no! Gutter screens are built to protect the gutters from leaves, dirt, and other types of debris. If you don't clean them on a regular basis they will build up grime and soil that needs serious attention before it turns into an issue for your home or business.
Can I put off fixing my gutter screens?
No! The most significant reason to fix your screens as soon as possible is because there are many dangers that can happen, such as storm damage and leaks caused by heavy rain. In fact, if a storm comes with high winds some serious injuries may occur- broken windows and collapsed buildings!
Is it ok to pressure wash my gutter screens?
Generally, pressure washing gutter screens is not recommended because it can cause seams to rip and the screen to come apart. Pressure-washing your gutters could lead to damage of your screens or their replacement. If you're unsure of how your gutter screens should be cleaned, please contact a local professional cleaner.
What is the process for replacing gutter screens?
The first step of this process is to remove the old gutter screens and secure them in place with clips so you don't have to worry about damaging your home while carrying out this job on a ladder. Next, ensure that any debris or obstructions are removed from around and near where the new screen will be installed before attaching one of our preformed brackets to each corner of your house's fascia board as well as through existing holes in its wallboard slates for added support during installation. Finally, install your new gutter screen into position by carefully looking over all sides to ensure the installation was done correctly.
Is it safe to install my own gutter screens?
No. One way to ensure your gutter screens are installed correctly is by hiring a professional. They will install the screen in accordance with all applicable building codes and regulations, as well as make sure it doesn't interfere with any plumbing or sewer lines that might be nearby.
What is the best type of gutter screens?
Some of the more common types of gutter screens include fiberglass and aluminum. Fiberglass tends to be stronger but more expensive, while aluminum tends to be less expensive but not quite as strong as fiberglass. Both can work well for most homes if they're properly installed!
We Serve Metro Atlanta, and Surrounding Areas
Atlanta Gutter Specialists is a family owned business that has been serving metro Atlanta and surrounding areas. We offer gutter screens, gutters, downspouts, drainage systems and much more to keep your home safe from the elements while enhancing curb appeal on all of your homes exterior surfaces. We have been providing Georgia homeowners with the highest quality products and services available in the industry.
Atlanta Gutter Specialists knows that you have many options when it comes to gutter screen installation and repairs! We are confident that our gutter screens will give you years of reliable service while protecting the health of your home and family.
We offer our services throughout Atlanta, Alpharetta, Marietta, Johns Creek, Norcross, Roswell, Dunwoody and surrounding areas.
Let Atlanta Gutter Specialists Install or Repair Your Gutter Screens
Atlanta Gutter Specialists is a company that specializes in installing and repairing gutter screens. They have been providing the Atlanta area with quality services consistently for over multiple years.
Our goal is to provide you with the best customer service possible, while keeping your home and family safe. We use only superior products and the latest technology available when it comes to providing you with a gutter screen that will last for years to come.
Our team specializes in residential gutter screens, as well as commercial gutter screens. We can provide you with gutter screens that are installed right on your roof. We also have a team of experts who can work on your roof and install the gutter screens. We only use the best products in our industry, which means that they will last for years to come.
If you are looking for a company that can give you superior customer service, then look no further than Atlanta Gutter Specialists.