Does Your Atlanta Home Need to be Cleaned?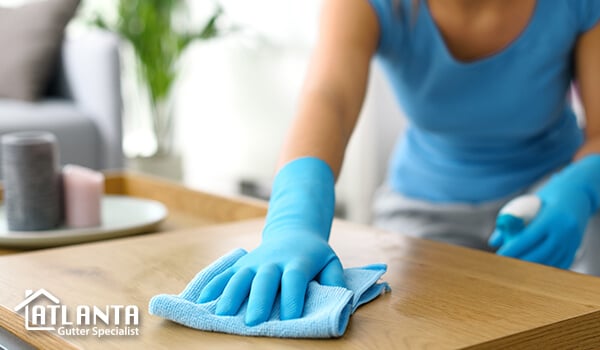 Welcome to the Atlanta Gutter Specialists, your trusted partner for all your home cleaning needs in Atlanta, GA. As experts in the field, we understand the importance of a clean and welcoming home, and we're dedicated to providing the highest standard of home cleaning services in the city. Our team of seasoned professionals is equipped with the latest cleaning techniques to transform your space into a sanctuary of cleanliness and tranquility. But our expertise doesn't stop at the superficial. We delve deeper, ensuring every corner of your home gets the attention it deserves. It's not just about appearances; it's about fostering a healthy environment for you and your loved ones.
Located in the heart of Georgia, we take pride in serving the vibrant community of Atlanta and the surrounding areas with our top-notch services. We believe that every Atlanta resident deserves a clean and healthy home, and we're committed to making that a reality for you. Whether you live in a small apartment or a sprawling mansion, our team has the skills and equipment to handle all your cleaning needs with precision and care.
We recognize that every home is unique, with its specific cleaning needs. That's why our professionals provide tailor-made solutions to ensure each home receives the care it requires. From the initial consultation to the final cleanup, we're there every step of the way, providing exceptional customer service to ensure your satisfaction.
CLIENT TESTIMONIAL
Ryan Thompson here, and I just had to share my experience with Atlanta Gutter Specialists. They did a fantastic job cleaning my home. I live in Inman Park, and they were able to fit me into their schedule without any issues. The team was professional, and did an amazing job! Thanks for the great service
Does Your Atlanta Home Require Expert Cleaning Services?
An immaculate home is more than just an aesthetic pleasure; it's a haven that upholds the health and well-being of your family. Over time, despite regular cleaning, homes tend to accumulate dust, dirt, and allergens that may deteriorate the indoor environment, affecting your home's cleanliness and your family's health. Unaddressed, these particles can also degrade your furniture and décor, robbing your home of its charm. If you find yourself in a constant struggle against dust, or if your home feels a tad less refreshing, it might be time to enlist the assistance of a professional cleaning service.
In the heart of Atlanta, GA, our professional cleaning services are designed to breathe fresh life into your homes. Leveraging modern cleaning techniques, we meticulously remove dirt and grime from every nook and cranny, restoring the vibrancy and freshness your home deserves. Our services extend beyond mere cleaning; we sanitize your home, making it a safer, healthier space for you and your loved ones. We understand each home is unique, and thus, we customize our services to cater to the specific needs of your house, ensuring optimum results.
Choosing a professional cleaning service like ours also means saving valuable time in your busy schedule. In the bustling life of Atlanta, finding time for an extensive cleaning session can be a challenge. By entrusting your home cleaning to our team, you can rest easy knowing your home's cleanliness is being taken care of diligently, allowing you to focus on other important aspects of your life. Our team of cleaning experts is dedicated to providing a thorough, efficient cleaning service that leaves your home sparkling and you satisfied.
Signs That Your Home Might Benefit from Professional Cleaning
Often, homeowners overlook the early signs of dirt accumulation, leading to a sudden realization of a need for deep cleaning. If you notice persistent dust on your furniture, murky windows, stained upholstery, or an unusual odor lingering in your home, it's time to consider professional cleaning. These issues can be tough to tackle without the right equipment or expertise. Our expert cleaning team in Atlanta is equipped to deal with these problems, helping your home reclaim its fresh and clean environment.
Our cleaning professionals pay attention to details often overlooked in regular cleaning. They make sure to clean, dust, and sanitize areas that are frequently touched but seldom cleaned, such as door handles, light switches, and remotes. Our thorough cleaning process ensures that your home is not just visibly clean but also free from germs and allergens, creating a healthier living space.
Experience the Benefits of Regular Professional Cleaning: A Welcoming Home in Atlanta
The benefits of maintaining a clean home extend beyond aesthetics. Regular cleaning can enhance the longevity of your home's interior, maintaining a healthy and inviting environment. In the hustle and bustle of Atlanta's everyday life, keeping up with a regular cleaning schedule can be challenging. That's where our professional cleaning service steps in.
At Atlanta Gutter Specialists, we understand that your busy schedule might not always permit the time for an extensive clean-up. To cater to your needs, we offer regular cleaning services that are flexible and tailored to your home and schedule. Our team takes up the responsibility of maintaining your home's cleanliness, allowing you to enjoy a clean, refreshing space without the hassle of cleaning.
Regular professional cleaning can transform your home from a place of clutter and chaos to a rejuvenating sanctuary. Our services not only keep your home visually pleasing but also improve indoor air quality, making your home a healthier place to live. A clean, well-maintained home is inviting, offering a sense of tranquillity and comfort that you and your family deserve. Choose our professional cleaning services in Atlanta, GA, and experience a cleaner, healthier, and happier home.
---
What Does a Comprehensive Home Cleaning Entail?
When it comes to professional home cleaning services, we at Atlanta Gutter Specialists take pride in our exhaustive approach. For us, home cleaning extends beyond the traditional dusting of surfaces or vacuuming of floors. We approach it as a detailed process that encompasses all elements of your home, from the gutters down to the grout lines in your kitchen. Our aim? To leave every square inch of your home in Atlanta, GA, absolutely pristine. A comprehensive home cleaning, as conducted by our team, is a systematic and efficient process. It begins with a thorough assessment of your home, identifying areas that require special attention or intensive cleaning. It is during this phase that we identify any potential issues, such as blocked gutters or grime-laden grout, enabling us to formulate an effective cleaning strategy. This initial inspection ensures that our cleaning service is tailored to your home's specific needs, guaranteeing a spotless finish.
Our meticulous cleaning services are designed to reinstate the freshness and cleanliness of your home, enhancing your living environment. We employ professional-grade cleaning agents and equipment, ensuring a deep cleanse that rids your home of accumulated dirt, dust, and grime. From high-traffic areas to those rarely used corners, our comprehensive cleaning leaves no spot untouched. You can trust us to deliver a home cleaning service in Atlanta that lives up to your expectations.
Healthy Living Starts with a Clean Home
The relationship between cleanliness and health is undeniable. A buildup of dust, dirt, and allergens can significantly impact the air quality within your home, leading to health issues like allergies or respiratory troubles. This is where our expert cleaning service in Atlanta steps in. We view home cleaning as an essential step in creating a healthier living environment for you and your loved ones. Our robust cleaning process includes comprehensive sanitization, a crucial aspect often overlooked in regular cleaning routines. We prioritize the elimination of harmful bacteria and viruses, employing safe yet effective disinfectants. This intense sanitization process significantly improves the indoor air quality of your home, allowing you to breathe easier and live healthier.
Choosing Atlanta Gutter Specialists for your home cleaning needs is more than just opting for a cleaner home. It's making a conscious choice to promote a healthier living environment for your family. Our experts strive to provide a service that contributes positively to your overall well-being.
Establishing the Ideal Home Cleaning Schedule
The frequency of professional home cleanings is a common query we encounter. The answer largely depends on various factors, including the size of your home, the number of residents, and your lifestyle. For instance, homes with pets or children often require more frequent cleanings due to the additional dirt and mess.
During our initial consultation, we take the time to understand your home and your specific cleaning needs. We evaluate your living conditions, the level of cleaning required, and your lifestyle habits to craft an ideal cleaning schedule. This personalized approach enables us to provide a service that fits seamlessly into your life, ensuring your Atlanta home stays fresh and clean without adding unnecessary stress to your schedule.
---
Why Opting for a Professional Home Cleaning Service Makes a Difference
Embarking on a DIY cleaning journey might seem like a cost-effective option in the beginning. However, it's not always the most efficient route in the grand scheme of things. Engaging the services of a professional cleaning company brings a host of benefits to the table. For one, these experts come armed with the know-how and tools to perform a thorough deep clean of your home, paying attention to those nooks and crannies that might escape your notice.
Additionally, availing professional cleaning services can save you a significant amount of time and effort. Instead of investing hours in cleaning, you can devote this precious time to other important aspects of your life, whether it's your career, hobbies, or spending quality time with family. With a professional cleaning company like ours at your service in Atlanta, you can sit back and relax while we ensure that every corner of your house sparkles.
How to Choose the Right Home Cleaner
The process of choosing the right home cleaner is vital and should be undertaken with utmost care. Essential factors to consider include the company's reputation, customer feedback, and the proficiency of their cleaning team. At Atlanta Gutter Specialists, we take pride in ticking all these boxes. Our commitment to delivering reliable, top-notch home cleaning services has earned us the trust and commendation of our customers in Atlanta, GA. With an unrelenting focus on quality, we offer a wide range of cleaning services tailored to meet the unique requirements of each home. Whether you need a thorough spring clean, routine maintenance cleaning, or specialized services, our expert cleaning professionals are at your service, delivering results that are nothing short of exceptional.
Raising the Bar for Home Cleaning Services in Atlanta
Over the years, we have established ourselves as a trusted home cleaning service provider in Atlanta, GA, thanks to our unwavering dedication to excellence. Our vision is to consistently deliver high-standard cleaning services that go beyond mere customer satisfaction. We are determined to redefine what home cleaning means to the residents of Atlanta.
Our team of skilled professionals is the backbone of our operations. Each team member brings a wealth of experience to the table, ensuring your home receives the detailed attention it deserves. From employing the latest cleaning techniques to using eco-friendly products, we go the extra mile to make sure your home is a clean, healthy, and safe environment for you and your loved ones. This relentless pursuit of perfection is what sets us apart as a premier home cleaning company in Atlanta, GA.
---
Your Go-to Professionals for Superior Home Cleaning Services
Imagine returning to a spotlessly clean home after a long day at work, your floors gleaming, kitchen sanitized, and rooms impeccably organized. At Atlanta Home Cleaning Experts, we make this dream a reality. As the leading home cleaning service in Atlanta, GA, we are committed to providing a top-tier cleaning experience that keeps your home in its best condition. Our team of professional cleaners brings a wealth of experience and expertise, ensuring that every corner of your home is thoroughly cleaned and sanitized.
Our cleaning service is not merely about keeping your home visually appealing. We recognize that a clean environment is crucial for your family's health and wellbeing. From dusting and vacuuming to disinfecting surfaces, we follow a comprehensive cleaning process that eliminates dirt, allergens, and bacteria, contributing to a healthier living space. We use eco-friendly cleaning products that are safe for children and pets, yet effective in providing a deep clean.
Transparent Pricing for Our Home Cleaning Services: Quality at a Fair Cost
At Atlanta Gutter Specialists, we believe in maintaining an open and honest dialogue when it comes to pricing. Our home cleaning services are competitively priced, giving you access to superior quality service that offers excellent value for your money. We pride ourselves on our transparent pricing policy. We provide detailed estimates that break down the costs, with no hidden charges or surprise additions. Rest assured, with us, you're getting an unparalleled service that doesn't overstep your budget.
Quality cleaning shouldn't break the bank. We provide affordable home cleaning services without compromising on the quality of our work. Our pricing structure is transparent and competitive, ensuring you get the best value for your money. So if you're in Atlanta, GA, and looking for a professional, reliable, and affordable home cleaning service, Atlanta Home Cleaning Experts is the perfect choice.
Easy Scheduling: Your Path to a Cleaner Home
Arranging your cleaning service with Atlanta Gutter Specialists is as straightforward as making a call. Understanding that your schedule might be hectic, we offer flexible scheduling options that can work around your lifestyle. Whether it's a one-time comprehensive cleaning you're after, or you require a routine cleaning service, our team is always at your disposal, ready to meet your cleaning needs. With us, achieving a cleaner home is just a call away.
---
Custom Home Cleaning Services for the Atlanta Community
At Atlanta Gutter Specialists, we stand as a reputable and reliable provider of home cleaning services in the heart of Atlanta, GA. We have developed an impressive standing within the community, delivering professionalism and top-notch quality in all our services. Our team comprises seasoned professionals who dedicate themselves to their craft, ensuring your home is cleaned to a sparkling finish. As experts in our field, we take the time to understand the unique cleaning needs of your home, customizing our services to exceed your expectations every time.
Our commitment extends beyond the confines of basic cleaning practices. We have taken it upon ourselves to deliver to Atlanta residents a home cleaning service that is not just thorough but also devoid of any inconvenience. We realize the value of a professionally cleaned home and the impact it has on your everyday life. So, if your dwelling could use a little extra shine, reach out to us at Atlanta Gutter Specialists. We're all about helping you rediscover the beauty and cleanliness of your home. Call our office today and schedule your customized home cleaning service. We're excited to be of service!
Our Efficient Home Cleaning Procedure: A Behind-the-Scenes Look
Our home cleaning procedure at Atlanta Gutter Specialists is a blend of effective strategies and meticulous workmanship. We initiate the process by conducting a comprehensive evaluation of your home. This evaluation gives us insights into the specific cleaning requirements of your home, enabling us to deliver a cleaning service that is precise and result-oriented. We then formulate a personalized cleaning plan tailored to your home's needs. Our experts employ advanced cleaning tools and eco-friendly products to ensure a thorough and safe clean.
The magic behind our excellent service delivery lies in our team's skill and dedication. Each team member is trained in diverse cleaning techniques and specializes in certain areas. From cleaning your floors to making your windows gleam, each task is handled with utmost precision and care. By breaking down the process into tasks, we ensure every inch of your home gets the attention it deserves. You can rest easy knowing that when you hire Atlanta Gutter Specialists, your home is in capable and caring hands.
Ready to Rejuvenate Your Home? Schedule Your Cleaning Today!
Atlanta Gutter Specialists is ready to help you experience the transformation a professional cleaning service can offer. We understand the rejuvenating effect a clean home can have on its residents, and we're here to help you experience that first-hand. Our bespoke cleaning services are designed to breathe life back into your living spaces. We focus not just on cleaning but also on creating a healthy, refreshing environment for you and your loved ones.
Don't delay the refreshment your home deserves. Schedule your professional home cleaning session with us today. Whether you're looking for a comprehensive deep clean or regular maintenance cleaning, Atlanta Gutter Specialists is the service provider to trust. Let us handle the cleaning so you can enjoy a fresh, clean home without lifting a finger. Make that call to our office today, and let's give your home the professional cleaning treatment it deserves. Your home will thank you for it!
CLIENT TESTIMONIAL
I recently hired Atlanta Gutter Specialists to clean my gutters and I couldn't be happier with the results. They were professional, thorough, and their prices were very reasonable. I highly recommend their services to anyone in need of gutter cleaning.
Frequently Asked Questions About Home Cleaning
As a renowned home cleaning service provider in Atlanta, GA, we take great pride in offering top-notch, efficient, and reliable cleaning services. Whether you need a comprehensive clean-up or specific services, our professional team is always ready to turn your home into a spotlessly clean sanctuary.
Our services are highly sought after in Atlanta and the surrounding areas for their exceptional quality and unwavering commitment to customer satisfaction. We believe that a clean home contributes to your well-being, and our dedicated experts work tirelessly to ensure you come home to a clean and healthy environment every time.
What Areas Do Your Home Cleaning Services Cover?
Our comprehensive home cleaning services cater to a broad geographical span, encompassing Atlanta, GA, and its surrounding areas. Our aim is to bring top-tier, professional cleaning services to as many households as possible, and we continuously look for opportunities to expand our reach.
What Cleaning Services Do You Provide?
We provide an extensive array of cleaning services designed to cater to every corner of your home. Our services range from thorough home cleaning, which includes every room, to more specific tasks such as window cleaning, carpet cleaning, bathroom sanitization, and kitchen cleaning. Our goal is to create a clean, healthy, and inviting environment in your home.
Are Your Cleaning Professionals Trained?
Absolutely, our cleaning professionals undergo intensive training sessions before they start serving our clients. This training includes proper cleaning techniques, safety procedures, and the use of our eco-friendly cleaning products. Our aim is to ensure that each of our cleaning experts can provide the high-quality service that our clients have come to expect.
Do You Use Eco-Friendly Cleaning Products?
We absolutely do. Our commitment to our clients' health and the environment motivates us to use only eco-friendly cleaning products. These products are just as effective as traditional cleaners, but without the harsh chemicals. They're safer for you, your family, your pets, and the planet.
What Is Your Booking Procedure?
Booking our services is simple and convenient. You can give us a call directly or use our online platform to schedule a service. Our customer care representatives are always ready to assist you in setting up your appointment at a time that works best for you.
How Soon Can I Schedule a Cleaning Service?
While we recommend scheduling your service at least a week in advance to ensure we can meet your preferred timing, we understand that life happens, and sometimes you may need cleaning services unexpectedly. In such cases, we do our very best to accommodate last-minute bookings.
Do You Offer Regular Cleaning Packages?
Indeed, we do. To ensure consistent cleanliness in your home, we offer weekly, bi-weekly, and monthly cleaning packages. These regular cleaning packages allow you to maintain a clean and healthy home without the stress of constant upkeep.
How Do You Price Your Services?
Our pricing model is based on the size of your home and the type of cleaning services you require. By providing a personalized quote for each job, we ensure that you're only paying for the services you need.
Can I Trust Your Cleaners in My Home?
Our company prides itself on trust and integrity. All our cleaning professionals are thoroughly background checked before their employment, and they are trained to respect your personal space and privacy. We strive to build long-term relationships with our clients, and that starts with ensuring your peace of mind.
Do I Need to Be at Home During the Cleaning?
It is entirely up to you. If you feel comfortable, you can absolutely leave your home while our cleaning team is at work. On the other hand, if you prefer to be present, you're more than welcome to stay.
Do You Provide Cleaning Supplies?
Yes, we come fully equipped with all the cleaning supplies necessary to make your home sparkle. If you have specific cleaning products you'd like us to use, we are more than happy to accommodate your request. We're here to provide a service that's customized to your needs and preferences.
Expert Home Cleaning Services in Atlanta and Surrounding Regions
Located in the heart of Georgia, our professional home cleaning company is proud to serve the bustling city of Atlanta and the neighboring communities. With years of experience under our belts, we've dedicated ourselves to elevating the standards of cleanliness, one home at a time. Atlanta, with its dynamic cityscape and diverse residential structures, is a place we've grown fond of. Our services have touched many homes, infusing them with a fresh, invigorating ambiance that only a thorough cleaning can bring.
Our cleaning experts are well-versed in dealing with the specific needs of Atlanta homeowners. We understand that each home is unique and requires a tailored approach. With a firm grasp on the nuances of home cleaning, we're capable of delivering a pristine living environment that not only meets but exceeds your expectations. As a responsible service provider, we consider it our duty to ensure that our customers feel completely at home in their freshly cleaned living spaces.
Being an integral part of the Atlanta community, we're all about making life easier for the residents. We're not just a home cleaning company, we're your friendly neighborhood helpers, always ready to bring the sparkle back to your home.
Adaptable Home Cleaning Schedules for the Bustling Atlanta Lifestyle
We understand that life in Atlanta, GA can be fast-paced and time-consuming. Balancing work commitments, social engagements, and personal time can leave little room for household chores. Our flexible home cleaning appointments are designed to fit seamlessly into your busy schedule. We're here to lighten your load and provide a service that works around you, not the other way around.
By offering customizable scheduling options, we can accommodate your needs, whether you require weekly, bi-weekly, or monthly cleanings. Our goal is to provide a smooth, hassle-free experience from the moment you book with us. Our professional team shows up right on time and gets to work, transforming your home into a spotless haven where you can relax and unwind.
Affordable and Efficient Home Cleaning Services in Atlanta
Investing in a professional cleaning service doesn't have to be a drain on your finances. Our home cleaning services in Atlanta are both economical and efficient. We believe that everyone deserves a clean, healthy home, and our pricing structure reflects that belief. We offer competitive rates that provide excellent value for money, ensuring a top-notch cleaning experience without breaking the bank.
Our efficiency sets us apart from the rest. The Atlanta residents who have trusted us with their homes can attest to our punctuality and precision. We aim to complete our tasks promptly, without compromising the quality of our service. We make every minute count, dedicating our full attention to each cleaning task. Whether it's a routine cleaning session or a deep cleaning service you need, you can rely on us to deliver efficient, high-quality results every time.
CLIENT TESTIMONIAL
I recently used Atlanta Gutter Specialists for their cleaning services and I couldn't be happier with the results! The team was very professional and knowledgeable, and they were able to clean my gutters and downspouts quickly and efficiently. They also provided me with helpful tips and advice on how to maintain my gutters between cleanings. Overall, I had a great experience with this company and I would definitely use them again in the future!
Why Atlanta Trusts Us With Their Home Cleaning
Serving the bustling city of Atlanta, GA, we pride ourselves on being the leading home cleaning company that local residents trust. It's not just about cleaning homes, but about providing a holistic, hassle-free experience that leaves our clients satisfied and their homes spotless. A clean home is the foundation of a healthy and comfortable living environment, and we work tirelessly to ensure our clients enjoy such a space. Atlanta homeowners prefer our services due to our commitment to quality and consistency. We understand that every home is unique, requiring its own set of cleaning methods and schedules. Our team of trained professionals is adept at recognizing these needs and delivering customized solutions that meet and exceed expectations. From small apartments to large family homes, our expertise in home cleaning spans across a diverse range of residential structures.
Our clients in Atlanta, GA, appreciate our focus on detail and precision. We go above and beyond to ensure no corner is left unattended. We use environmentally friendly cleaning products to ensure safety for both our clients and the environment. These commitments to excellence and sustainability have established us as a trusted and respected home cleaning service provider in the Atlanta area.
Proven Excellence in Home Cleaning Services
At the heart of our business lies a commitment to delivering an exceptional cleaning experience. This involves more than just routine cleaning tasks. It involves a thorough, detailed process that leaves your home spotless and a testament to our high standards of excellence. Every surface, corner, and hidden spot is given the attention it deserves, ensuring a comprehensive clean that keeps your home looking its best.
Our experienced team has been trained to uphold these high standards in every task they undertake. Their expertise lies in their ability to identify areas that require extra attention, utilizing effective cleaning techniques to ensure these areas are not neglected. This attention to detail, coupled with a determination to deliver top-notch service, is what sets our cleaning services apart in the competitive Atlanta market.
A Personalized Approach to Meet Your Unique Home Cleaning Needs
We believe in a personalized approach when it comes to home cleaning. We understand that every home in Atlanta is unique and comes with its distinct cleaning requirements. Whether you need a deep clean for your kitchen or regular maintenance cleaning for your living spaces, our team is equipped and ready to deliver a service that caters to your specific needs.
We take the time to understand your cleaning preferences and build a cleaning plan that aligns with your lifestyle. Our team is flexible and adapts to your schedule, ensuring minimal disruption to your daily activities. By tailoring our services to meet your individual needs, we provide a cleaning service that not only cleans your home but also provides peace of mind knowing that your home is in capable, professional hands. Your satisfaction is our utmost priority, and we go the extra mile to ensure our cleaning services live up to your expectations.