Atlanta Gutter Protection Installation and Repairs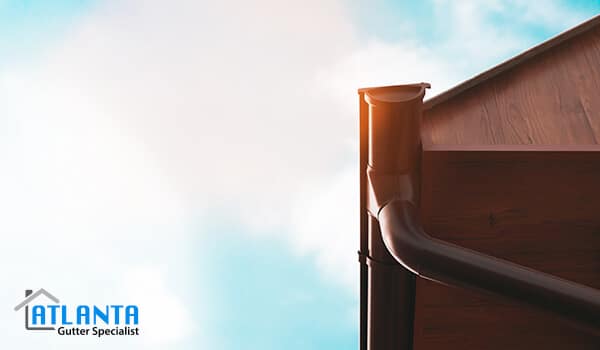 Atlanta Gutter Specialists offers a variety of gutter protection services to keep your property safe from water damage. We offer a wide range of services including clog removal, repair and installation to protect your property from water damage. With multiple years of experience, you can trust our expertise when it comes to protecting your home from inclement weather conditions such as rain storms or hurricanes that might cause extreme amounts of flooding in residential areas. We provide complete gutter protection by installing a new gutter system or replacing the damaged ones. In addition, we are experienced with offering solutions for other common problems like leaking gutters on sloped roofs or leaks.
Signs Your Gutter Protection isn't Working
Signs that your gutter protection isn't working enough include leaves, debris and snow clogging the gutter. If you have a downspout or rain barrel located near where water is running from your roof into the ground then you need to be extra vigilant about keeping it covered with mesh or other materials so animals can't climb up there for shelter during harsh weather through wintertime. You should also keep an eye out for any leaks in the gutter protection system as well.
If you see any of the above signs, it is time to get your gutters cleaned out. The longer you wait to clean out your gutters, the more likely you will have a problem later on when something starts to block up your gutters. However, if you can also see signs that they need replacing if there is water dripping down the sides of them or if they are leaking badly. If this happens, you should immediately call a professional for help as by this point your rain gutters will be damaged and will need replacement immediately in order for them to function properly again.
What to Consider With Gutter Protection
Gutter protection is not only about preventing leaks, but also prevents future damage by keeping rainwater from entering the lower levels. It's great for protecting against mold and mildew, as well as prevent any other problems that may arise with roofing or your home exterior.
When it comes to gutter protection, the first thing that you need to consider is your roof. If you have an asphalt shingle roof, then a gutter guard with built-in clips would be the best option for avoiding water from entering your home. If you have a metal roof, then it's best to use a gutter guard that comes with clips and straps to secure the guard around the edge of your roof. If you have a tile roof, then you'll need to use a gutter guard with a built-in lip or channel to prevent water from entering your home.
The next thing that you need to think about for protection is your gutters. If you have a metal or vinyl gutter, then it's best to use a gutter guard that has an edge protector and channel built-in to prevent water from entering your home. It's also important to make sure that there are no holes in your gutters. If you notice any holes in your gutter, then it's best to replace them immediately.
The last thing that you need to consider is the material of the gutter guard that you're going to purchase for protection. If you have a metal or vinyl gutter, then it's best to use a guard with clips and straps for securing the guard around the outside of the roof. If you have a tile roof or asphalt shingle roof, then it's best to use a gutter guard with built-in lip or channel for preventing water from entering your home.
What is Gutter Protection?
When you think about protecting your home, many people's minds immediately turn to gutter protection. Gutter protection can be a preventative measure that prevents water damage and overgrowth by keeping rain off of the bottom half of your house. It also helps in preventing slippery conditions on outdoor surfaces like patios or driveways which is especially important for kids who are just learning how to walk or play outside with their friends.
Gutter protection can also help with keeping debris and other dirt out of your gutters. If the gutter is clogged with debris, you risk water damage to your home. You can prevent this by keeping a clean gutter downspout and cleaning it regularly. This will help keep your home dry and allow you to save money on repairs in the future.
Benefit of Gutter Protection in Atlanta
Gutter protection in Atlanta has been shown to be beneficial for many reasons, not the least of which is that guttering is a great way to keep your property dry. There are also other benefits like preventing water damage and mold buildup as well as reducing overflowing gutters before they can cause further damage or flooding.
Gutter protection from Atlanta Gutter Specialists can help your gutters to last for years and be less prone to leaking. Any time you see signs that your guttering is wearing out or that your gutter system is malfunctioning, it's important to have it inspected and repaired promptly by an expert.
Gutter Protection in Atlanta Can Help Your Gutters Last Longer
A lot of homeowners use gutter protection in Atlanta because they know that if their gutters aren't protected, they will wear out faster and cause more damage to the foundation of their home. This is especially important when the home isn't properly maintained. When your gutters aren't protected, they will have more strain placed on them than they can handle, which can lead to leaks and other problems.
Gutter Protection Can Protect Your Home from Water Damage
Another reason why Atlanta homeowners choose to get their gutters protected is because they know that it will protect their homes from water damage if there are any leaks or problems with their gutters. When there are any leaks in the gutters of your home, they can start leaking all over the place quickly and cause major damage to your home. If you have a gutter protection system installed on your home, then the water that leaks from your gutters will be able to bypass the gutter protection and will instead flow straight into the ground, which helps to prevent any damage from occurring.
Gutter Protection Services from Atlanta Gutter Specialists
Atlanta Gutter Specialists is a small family-owned business that provides gutter protection services in Atlanta. We provide the best quality service and guarantee every job. Our prices are competitive, as we always try to keep them low for our customers.
Gutter Protection Installation in Atlanta
Do you have a problem with gutter protection in Atlanta? Contact us today for more information about our gutter protection installation services! We offer affordable, professional gutter protection solutions in Atlanta.
Atlanta Gutter Specialists is a top-rated gutter installation company in Atlanta. We install our gutters on flat roofs, tile roofs and even on shingles! If you're looking for the best in gutter protection services in Atlanta, you've come to the right place! Our team of professionals is highly skilled, experienced and knowledgeable about all types of roofing materials. We offer top-quality, professional gutter guard services at affordable prices.
If you have any questions about our Gutter Protection Services in Atlanta or if you would like more information about our Gutter Installation Services in Atlanta, please feel free to contact us today!
Affordable Gutter Protection Repairs
We offer gutter protection repairs at an affordable price and our customer service is top-notch. Our team is able to provide a wide selection of services, from gutter repairs to gutter installation or replacement. We can also assist you with the repairs of rain gutter protection for all types of gutters and downspouts in Atlanta, GA.
Gutter Protection Replacement
The gutter replacement process involves removing your current set of gutters, installing a new one over the top of them, then adding back any kind of insulation or weather stripping before finally putting everything back together again. If you're looking for a reliable gutter protection company in Atlanta, look no further than the experts at Atlanta Gutter Specialists.
A gutter replacement expert can help you get rid of your old set of gutters, then install a new one over the top of them. This process involves an experienced professional who can help you with everything from installation to maintenance. If your current gutters are damaged or need to be replaced altogether, then a gutter replacement expert will help you understand the different types of gutters available, and explain what kind of gutter protection you should install in order to protect your home from damage. It's important to note that when it comes to replacing old gutters with new ones, it's important that they're installed properly so that they'll stay in place and not leak.
Maintenance for Gutter Protection
The gutter protection system should be checked regularly by a professional. It is best to have a gutter expert who can inspect the gutter protection system and make any necessary maintenance repairs. Atlanta Gutter Specialists is an Atlanta gutter protection company that provides gutter protection maintenance, and other services for residential customers, and commercial customers in the area of Atlanta, GA.
Gutter Protection Cleaning Service
Are you having trouble with your gutters clogged and overflowing? Have you tried to clean them yourself but found it is impossible because of the water damage? If you answered yes to either of these questions, then it is time to call Atlanta Gutter Specialists. Our experienced gutter protection cleaning team can remove all the debris and leaves that have built up over time, preventing any further water damage and ensuring that your gutters are functioning properly once again.
Our gutter protection cleaning service is the most efficient and effective way of removing all the debris and leaves from your gutters. We will remove all the debris and leaves from your gutters, clean out any debris left behind, and make sure that they are fully functional once again. If you have a problem with your gutter protection system, we can help you clean it.
Types of Gutter Protection
There are a variety of different types of gutter protection available today, and each has its own benefits and drawbacks. If you're looking to install gutter protection in your home or business, it's important to understand the different types so you can make an informed decision.
Metal Gutter Protection
Metal gutter protection is usually the most expensive and also the most durable, but it's also the least aesthetically pleasing to look at. Metal gutter protection can be installed in any size as well as on either side of your downspouts. It's also easy to clean, which makes it a popular choice for homes with children. However, metal gutter protection can stain or rust over time, and it can be difficult to install without specialized tools.
Rubber Gutter Protection
Rubber gutter protection is probably the least expensive type of material available today, but it doesn't offer any added benefits that other types of gutter protection don't already provide. It's also not very aesthetically pleasing, so if you're going to spend money on something that you're going to have to clean or maintain regularly, this is probably not the best option for you.
Plastic Gutter Protection
Plastic gutter protection has become increasingly popular in the last few years, but it's not without its disadvantages. It's not as aesthetically pleasing as metal or rubber gutter protection, and it doesn't offer any added benefits over them. Plastic gutter protection is also very expensive compared to other options.
Gutter Protection Questions
How often should your gutter protection be cleaned?
There is no standard answer. The frequency of the cleaning depends on your situation and the severity of debris in your gutter protection system. In general, we suggest that you clean it once a month or as needed to keep debris from accumulating too much.
If you are not sure if you have a blocked gutter, we can come out and inspect your gutters to make sure that you have no issues. We also offer estimates for our gutter cleaning and repair services in Atlanta.
Why have a professional service my gutter protection?
A professional gutter cleaning service will clean all of the gutters on your property, which will prevent debris from accumulating in one area and causing damage. The cleaning professionals at Atlanta Gutter Specialists are experienced with this type of work and will make sure that your gutters are completely cleaned out so that you do not have any issues with water or debris. Repairs and installation from a professional company are guaranteed to be done in a timely manner, which means that there will not be any missed deadlines or delays.
What does a gutter protection repair cost?
Generally, gutter protection repair costs are the same for both residential and commercial properties. The estimate we provide you will include a total cost for the job that can be divided into two parts: materials (standard) and labor. Depending on the size of your project, our materials and labor estimates should cover everything needed to repair your gutter protection.
Is new replacement gutter protection expensive?
It depends on the type of roof you have. There are simple ones and more complex ones that can involve up to five layers in some cases, so it is best for homeowners to consult a professional before purchasing any replacement gutter protection.
How do I clean my own gutter protection?
If you're like most homeowners, you probably hate cleaning your gutter protection. But if you don't clean them on a regular basis, you're putting your home and your family at risk. It's important to keep in mind that cleaning your gutter protection may not be as easy as it looks. Guttering is a difficult task to tackle, especially if you've never done it before. The most difficult part of cleaning your gutters will be the height at which they are located and how narrow they are from side to side. If this sounds like too much work for you, consider hiring our professional team who can come out and help with routine maintenance on your property - we're just a phone call away!
How to I fix gutter protection on my house?
Is your gutters overflowing with water and debris? Do you have a problem with water damage in your home? If so, you may need to fix your gutter protection. Gutter protection is a system that uses waterproof membranes to stop debris and water from flowing down your gutters and into your home. By installing gutter protection, you'll be able to keep your home safe from water damage and debris, and you won't have to deal with the hassle of cleaning up after a rainstorm.
What is included in your gutter protection service?
Our team does a full inspection of your gutters and downspouts to identify any issues. If there are any problems, we'll fix them before the rain starts pouring down on your house. Our goal is not only to keep you safe from gutter disasters but make sure that they're done in an efficient manner so that you won't have to deal with other damages too!
We also provide regular maintenance so that you don't have to worry about debris building up in your gutters or getting clogged - call us today!
How do I know if my gutter protection is clogged?
If you're having trouble with your gutters overflowing, one of the first things you should do is check to see if there is any blockage in the drainage system. If there is, you'll need to clear the blockage and call a contractor to proper install gutters.
How do I know if my gutter protection is damaged?
If your gutter protection is damaged, a professional will be able to tell you. Be sure to call one if you have any suspicion that damage has been done by the water outside of your home, or if they happen across something while inspecting and can't determine what it is. If need be, speak with them about when they think repairs should occur as well-we'd recommend calling for assistance sooner rather than later!
Can you avoid cleaning your gutter protection?
Some homeowners forget to clean their gutter protection regularly and this can lead to a buildup of dirt, leaves, and other debris that eventually clogs up your system. This kind of debris is bad for the water in your house so it doesn't flow freely down the pipe when you need it most. If you're not cleaning your gutters regularly, then it's best to call a professional company that can come out and do so.
Can I put off fixing my gutter protection?
Fixing your gutter protection may not seem like the most important task on your to-do list, but it's actually one of the most important ones you can take on. A gutter protection system is essential for protecting your home and family from dangerous rain and snow runoff. If you don't fix your gutter protection system, water will run down your roof and into your house, leading to water damage, mold, and even some property damage.
Is it ok to pressure wash my gutter protection?
No. Many homeowners are tempted to pressure wash their gutters to clean them and prevent debris from accumulating, but this is not a recommended practice. Pressure washers are designed to wash away dirt and debris from hard surfaces such as concrete, asphalt and brick. Gutter protection, which is made of flexible plastic, is vulnerable to damage if hit with a power washer spray and should only be cleaned with a garden hose.
What is the process for replacing gutter protection?
Gutter protection is a necessary component of any home. Not only does it protect your property from rain and debris, but it also helps keep your gutters clear and free of obstructions. When it's time to replace gutter protection, there are a few steps you need to take in order to ensure a seamless replacement process.
One of the most important steps in replacing a gutter protection is to make sure that the surface you are working with is completely clean. It's also important that your replacement material will be compatible with what's already there, so ensure compatibility when it comes time for installation.
Is it safe to install my own gutter protection?
Whether it's safe to install your own gutter protection depends on your personal expertise and what materials you are using for the installation. Gutter guards come in a variety of different types and brands, so there isn't one specific brand that is better than all others, but some people find certain products more durable or easier to use than other alternatives. As with any home improvement project, make sure you have completed enough research before making any decisions about investing money in your house yourself rather than hiring a professional contractor who will install your gutter protection the right way the first time!
What is the best type of gutter protection?
The type you choose depends on your home's design and its location in relation to your home's foundation. If you have a steep roof, you might want to consider a metal gutter system since they can be installed much further back than other types of gutter systems. Also, if there is any chance that the rainwater could damage your home's foundation or windows, then it's best to install metal gutters instead of plastic ones.
Gutter Protection Serving the Atlanta, GA Area
Atlanta Gutter Specialists is a highly rated gutter protection company that provides residential and commercial customers with the most comprehensive rain gutters services in Atlanta. We offer superior quality, customer service, and professional installation to keep your home or business safe from water damage. Out professional gutter cleaning services ensure that your gutters are clean and clear of debris, dirt, and leaves. This protects against rainwater buildup which can lead to potential damage of your Atlanta home or business.
Atlanta Gutter Specialists provides gutter protection in Fulton County GA. Our team is available 24/7 for emergency work or regular maintenance for the gutters of your home.
Atlanta Gutter Specialists for Gutter Protection
Atlanta Gutter Specialists provides all the protection services your home needs in terms of gutters. Whether it is for an entire house or just one, Atlanta Gutter Specialists can help you get everything taken care of so that you don't have to worry about anything! Call today and learn more from our experienced team members!
We can also provide you with the most current products for your home's gutters that will help prevent costly water damage. Our certified technicians are trained to provide superior gutter protection service and are available around the clock to assist you with all of your needs.