Learn How We Clean, Repair and Replace Gutters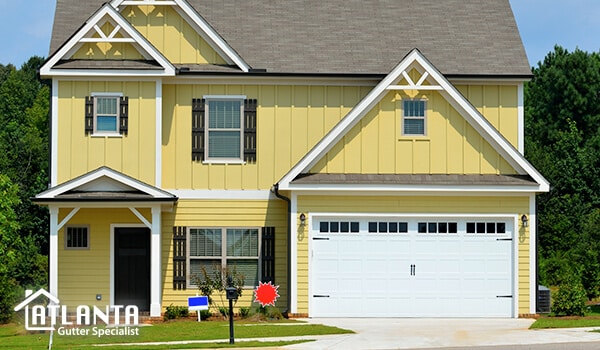 Step 1: Initial Discussion
While we have been providing gutter repair and replacement services to Atlanta, GA homeowners, we have learned how every project has its own nuances. We want to make sure we exceed your expectations so before any work is done or quoted, we need to learn about your individual needs and concerns. Typically this initial consult is done over the phone as it only takes a few minutes of our time and will schedule an appointment at a good time for you.
Step 2: Gutter Cleaning and Inspection
If the gutters are clean, we will inspect them for any missing or loose fascia boards, shingles that might have been lost and other issues. If there is anything wrong with the gutter system we can provide you with some recommendations on how to fix it. We carry a range of tools which allow us to make repairs if needed. For example, if you need new quality products for your guttering replacement costs - ask about what it would cost!
Step 3: Gutter Repair and Replacement
If your gutters are structurally sound, then they may just need some TLC. You can either upgrade them to new ones or simply repair the existing ones by cutting out old sections and replacing them with newer designs that have a different pitch, depth and design than before. We also offer gutter accessories such as rain guards that help keep water from running into your house.
Step 4: Gutter Installation
Our years of experience in gutter installation allow us to install them quickly and correctly. We also provide you with a video so that you can see how we do it ourselves. You'll be able to see all the dedication, quality workmanship, and experience put into each installation from start to finish by watching our videos - this is what makes us different from other Gutter Installation companies!
Step 5: Final Clean Up
You can depend on us to make sure that you are safe after we finish the job. We will clean up your area and remove any old gutters so they don't continue to be a safety hazard for you or future renters! When we're done, there won't be anything left behind!
Step 6: Seasonal Gutter Maintenance
Did you know that seasonal gutter maintenance is important? In order to keep your home or business safe and dry, it's a good idea to clean the gutters throughout each year. Keep up with our number of services so this doesn't happen!
Don't wait until fall arrives before contacting us for help! We offer a range of gutter cleaning services so we can get started as soon as possible.
Our Gutter Services
Our Services: Gutter Installation, Gutter Repair and Replacement, Gutter Cleaning and Inspection, Roof Repair, Chimney Cleaning, Gutters & Downspouts Specialist
We are a top rated company in the Atlanta area for gutter repairs and installation. Plus we offer the best gutter cleaning service in the area. The Atlanta Gutter Specialists team has consistently provided our customers with the best gutter cleaning services including repairs and cleaning. If you have any questions about gutter repair or replacement, please feel free to contact us. We would be more than happy to answer your questions and help you with your gutter repair needs.